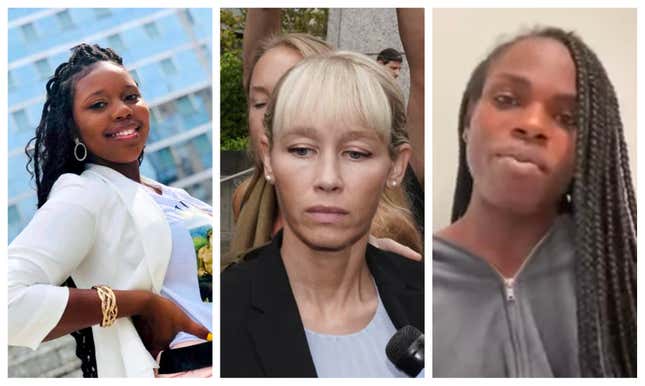 Carlee Russell may be home, safe and sound, but the public is still confused as to what happened to her when she vanished after spotting a random baby walking the side of the highway. Even the Hoover Police Department can't confirm the details of her alleged abduction.

Small Town Horror Story: Carlee Russell's Mysterious Disappearance
We are not here to suggest what happened. We just don't kn ow.  But y'all, this isn't the first time we've seen something like this. The car stopping on the side of the road, sudden vanishing, abductor from the bushes and magical release a few blocks down from home are details from Russell's statement that are a common thread among some of the biggest kidnapping hoaxes. Again, we are not saying this is a hoax.
Chloe Stein
Just two months ago, 23-year-old Chloe Stein was arrested on four misdemeanors for allegedly faking her own abduction, per NBC News. She vanished after texting her boyfriend that she got pulled over by a cop. Stein returned home the following evening and told the police that she was abducted, blindfolded and taken to various locations at gunpoint until her "abductor" dropped her off in an alley somewhere near her house. She ended up admitting later in the investigation that she fabricated the whole thing all because she didn't want to continue college.
#FindSai
During the summer of 2020, a Black trans woman named Sai (they/them) posted a video saying they were stuck in a basement with a mystery Latino man in Cincinnati, per Daily Dot. The clip swiftly circulated Twitter and led to cries for help to find them but the next day, a roommate said Sai was found and returning home. Then, that evening, Sai uploaded (and promptly deleted) a 40-minute video apologizing for lying about the whole damn thing that led people to donate over $50,000 to find them. The fundraiser was disabled and the police were never notified of a missing person.
Sherri Papini
Papini, 40, pleaded guilty to staging her own abduction and lying to the FBI after sending the city on a three-week, multi-state goose chase to find her in 2016. She planned months in advance to have someone drop her off on the side of a California interstate to be found by passing drivers with bruises and bindings, all which were self-inflicted. According to NPR, she was sentenced to 18 months in prison.
The Hoover Police Department confirmed there is no abductor running loose in the town and denied any threat to public safety at this time. However, the internet has decided Russell's disappearance was a lame cry for attention. Russell hasn't offered any more information beyond her initial statement to detectives.