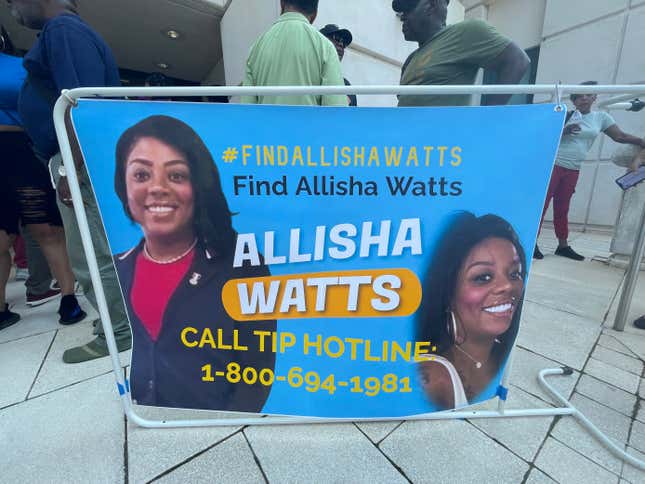 Now that the Carlee Russell case has been resolved, another family has gone public seeking help to find their missing loved one who disappeared the day after Russell returned home. According to WCNC, Allisha Watts, 39, has been missing for 10 days and her family has been given no information from the police on the progress (or lack thereof) of the search.
Watts' family says she was in town to visit her boyfriend, James Dunmore and was last seen at a Charlotte residence on Pamala Lorraine Drive on July 16. She was supposed to be on her way to a comedy show that evening at Bojangles Coliseum but authorities say it's unclear if she made it to the show. However, Tuesday, Dunmore was found unresponsive in Watts' Mercedes-Benz SUV by state troopers about 60 miles away from the residence.
Dunmore was taken to the hospital and is not named as a suspect in Watts' disappearance. Yet, there are still no leads on where Watts may be.
Read more from WCNC:
"There's too many loopholes, too many unanswered questions we have," Learen Blue, one of Watts' best friends, said. "We just need to know the last place she was at. We now know where they found her car and the unresponsive man in the car. Where is he? Where is Allisha? They're not telling us anything."

Dr. Candace Brewer, the national president of the Racial Justice Network, said the group is working to form a search party and asked anyone with information to call their hotline immediately at 1-800-694-1981. Brewer said she never met Watts but has been moved by the outpouring of support to find her.
Watts' family says she was a business owner in the mental health field who engaged with her community regularly. She was described by her loved ones as someone with a "bright smile" who could "pull out the best from you."
"She always was a giver, and you know, we need that back in our community, and we miss that smile," said Nora Bowman, Watts' relative, via ABC 11.
Anyone with information on Allisha Watts is asked to contact the Anson County Sheriff's Office, Moore County Sheriff's Office or Charlotte Mecklenburg Police Department.