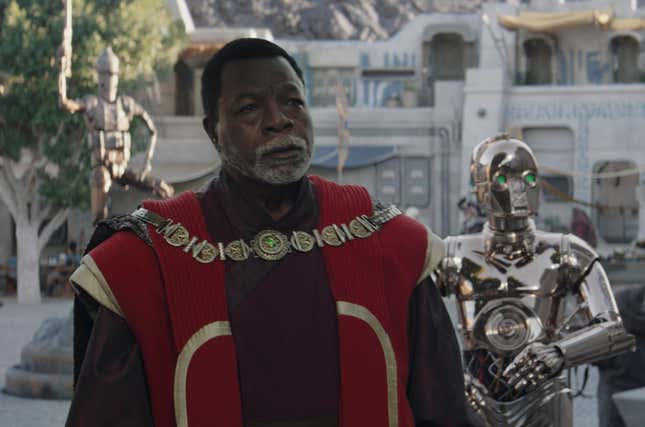 Spoiler alert! If you haven't watched The Mandalorian "Chapter 24: The Return," stop reading now!

Grand Crew: Season 2 & The Mandalorian: Season 3 Are Our TV Picks This Week
This is your last chance!
OK. You've been warned.
As The Mandalorian Season 3 comes to an end in "Chapter 24: The Return," it's time to take a deeper look at one of the show's most fascinating characters. His appearances may be brief and sporadic, but Carl Weathers' Greef Karga is one of Din Djarin's closest allies and one of the few people he trusts to protect his newly adopted son, Grogu. Ahead of the Season 3 finale, Weathers spoke with The Root about his hopes for Greef's future and directing the season's most talked about episode.
We met Greef back in the first episode as a leader in the Bounty Hunters Guild. He was an outlaw, proud of it, all about his money, and Din knew he couldn't completely trust him. However, after Grogu uses the Force to save his life, Greef begins to see things differently and starts working toward a greater purpose. Over the next two seasons, every time Din returns to Nevarro, Karga has revolutionized the town and becomes more concerned with protecting the people. Weathers calls Greef Karga's evolution "a wonderful journey." In fact, he'd like to see more of the High Magistrate's story explored.
"I want more territory of who that man is, who that personality is. It's limitless what he can be and who he can be," Weathers told The Root. "How facile Greef Karga is in adapting to certain situations. I am really fortunate that [executive producers] John [Favreau] and Dave [Filoni] could see the possibilities—not only in the character—but that I as an actor, as an artist, could make that work. I'm really appreciative of the opportunity as an actor because it's so limiting when a character is so one-dimensional that there is no growth. But here, you have this man who comes from being the king of the Bounty Hunters Guild, to now being a High Magistrate, a benevolent bureaucrat who seems to want to do good for all the citizens of Nevarro. I love that kind of stuff. That fullness of character. It also adds so much more dimension to The Mandalorian series that you have all these characters with so much depth and so much breadth in them that their stories are interesting in and of themselves."
In addition to his amazing work as an actor, Weathers is also a director on the series. He helmed the Season 3 instant classic, "Chapter 20: The Foundling," which revealed how Grogu escaped Order 66. It featured the return of Ahmed Best to the Star Wars franchise, adding an emotional layer to an impactful story. Though he wasn't as knowledgeable on the mythology of Order 66, the OG Creed actor was thrilled with how the episode came out and the audience's reaction to it.
"The episode was written really well. Once we had Ahmed as a part of it…he was such a wonderful human being, such a really fantastic man to be around, and so committed to the performance that it just made it even more enjoyable than I could have imagined," he said. "He turned in such a great performance. The guy is so athletic and could wield those lightsabers simultaneously in each hand with such dexterity. That whole action sequence just came off so well in the end…I couldn't have been happier with it."
After the Battle of Mandalore reached its thrilling conclusion, The Mandalorian Season 3 ended on a happy note: Din and his apprentice Grogu made a deal with Carson Teva to become unofficial fixers for the New Republic. The pair then settled into their cabin on the outskirts of Nevarro, meaning there will definitely be more developments in Greef and Din's friendship. Since it's one of the few relationships that date back to the series' origins, it's one of its most influential.
"That relationship is one that is filled with so much and could be endless. What's beautiful about the way it's been written…there's so much to Greef that is left to be unearthed," Weathers said. "For me, that means Greef still has tremendous possibilities of what he can be and which way he can turn. There is some mystery there and I love that in the relationship that he and Din Djarin have. There's also that relationship that Greef has with Grogu, because I can see possibilities there. What Greef may have in mind for the future may not have been revealed yet. It's just wonderful that the show and the character has so much possibility left."
Those possibilities do include an eventual Season 4, and maybe a movie. But in the meantime, we'll have to hope the duo pops up to surprise us in Season 1 of Ahsoka. The Mandalorian is available to stream on Disney+.