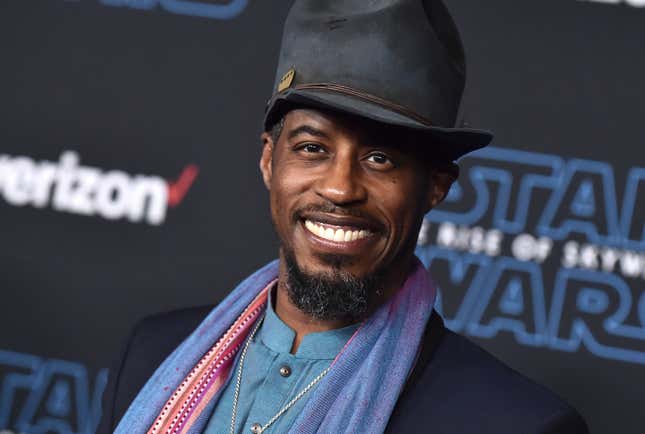 Trigger Warning: This article includes mentions of suicide.
Spoiler Alert: If you haven't seen The Mandalorian "Chapter 20: The Foundling," stop reading now!
Questlove Opens Up About Fighting Imposter Syndrome | Securing the Bag: Part 3
OK. You've been warned.
It's no secret that sci-fi/fantasy/comic book fandoms can be hard on the worlds they love, but they are particularly rough on actors of color. In the Star Wars universe, this has become an extremely unfortunate pattern, as franchise vets John Boyega, Kelly Marie Tran and Moses Ingram have all been the victims of racist harassment from so-called "fans." One of the most tragic cases of fandom bullying was waged against Ahmed Best, the actor who played Jar Jar Binks in Star Wars Episode 1: The Phantom Menace. The character was not well received and the now 49-year-old took the brunt of that backlash. In a 2019 interview with Participant, he revealed that the criticism got so ugly that it drove him to suicidal thoughts. He explained how he was so new to the business that he didn't have the support system around him to help deal with such an awful situation.
"It hit me. It came right for me. I was called every racial stereotype you can imagine. There was this criticism of being this Jamaican, broken dialect, which was offensive because I'm of West Indian descent—I'm not Jamaican," he said. "It was debilitating. I didn't know how to respond."
Best goes on to reveal that at one point, he "was just alone and the depression hit me. Hard. I was just broken," He decided to go for a walk to clear his head and it became a life-changing moment.
"The only thing I could think of to make me feel better was to walk across the Brooklyn Bridge. But this time when I walked across the bridge, I didn't see the lights of Manhattan. I didn't see the towers, I didn't see the potential of hard work and ingenuity," he continued. "I didn't see anything; I just saw a fog. I felt tired of having to explain myself. I felt tired of having to defend myself and defend my work. I felt tired of having to fight back against racism and racial stereotypes. I just wanted to play a part. I was exhausted."
As he was about to make a fateful decision, a gust of wind brought the actor back to himself and he crawled back from the edge. The fact that people who claim to love the franchise are the ones who pushed him to this place is truly one of the ugliest moments in Star Wars history.
Fortunately, this story has a happy ending, as Best has returned to the Star Wars universe, making a memorable appearance on The Mandalorian. In the episode "Chapter 20: The Foundling," he plays Jedi Master Kelleran Beq. He saves Grogu from the Jedi Temple on Coruscant when clone troopers attack after the Emperor issues Order 66—seen in Star Wars Episode III: Revenge of the Sith. Nicknamed "The Sabered Hand," Beq uses two lightsabers to defeat multiple clone troopers as he and Grogu make their escape. We last see him jumping into hyperspace with Grogu, so there's a definite possibility that he could return at some point.
As the episode premiered, Best posted a message on Instagram thanking his supporters, writing, "Gratitude! Good to be back. There is so much to say and share. It's going to take a couple of days. But, for now, I'll just say thank you to all that have held me up and made me better."
The actor initially played the character on the kid's obstacle course game show, Star Wars: Jedi Temple Challenge. He may have only appeared in a few short scenes of The Mandalorian, but Beq made an unforgettable impact. I need to know if he survived the war. Did he join the rebellion or try to disappear like Obi-Wan? Is he still out there somewhere living in anonymity? Will he cross paths with Grogu and Din? There are so many questions I need answered that Kelleran Beq has to return.
As much as fans love the universes and franchises that we're obsessed with, it's important to remember that they don't belong to us. There are artists behind these projects that put their heart and soul into them just for our enjoyment. We as a community need to be more responsible with our criticism and more respectful of the people that deliver these fantasy worlds to us.