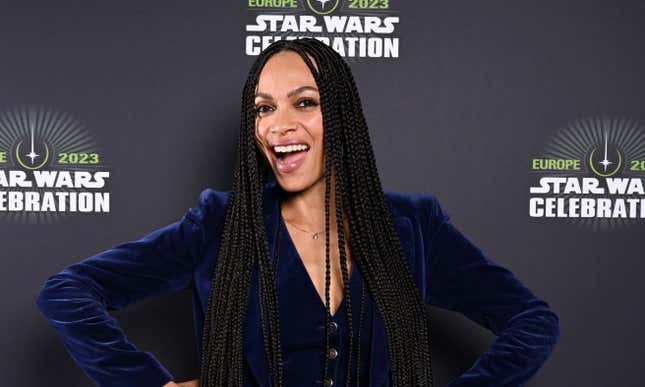 Sadly, I am not in London at Star Wars Celebration, but that doesn't mean I don't have news on all the cool announcements and premieres happening at the convention. Day One started with a bang, as we got the first trailer for the new Disney+ series Ahsoka, starring Rosario Dawson.

Queen Sugar's Bianca Lawson Plays That's So Random
If you watched The Mandalorian Season 2 or its spinoff, The Book of Boba Fett, you've already met Dawson's live-action version of the classic character. For the unfamiliar, Ahsoka Tano was introduced as Anakin Skywalker's Padawan in the animated series Star Wars: The Clone Wars. After losing faith in the leadership, she left the Jedi Order, but not the fight. Ahsoka became an essential part of the Rebellion. The character is extremely popular, so her live-action debut was highly anticipated by fans. When we met Dawson's Ahsoka in The Mandalorian "Chapter 13: The Jedi," she was searching for Imperial villain Grand Admiral Thrawn. Based on the trailer, it looks like that is her driving purpose in the series.
In the clip, we get our first look at Natasha Liu Bordizzo as Sabine Wren and Mary Elizabeth Winstead as Hera Syndulla. There are plenty of space battles and lightsaber duels, teasing a similar feel to The Mandalorian. Since it takes place in the same post-Return of the Jedi time period, this makes sense. In addition to Ahsoka's hunt for Thrawn, there's a very mysterious tone to the video, with the title character saying, "Something's coming. Something dark. I sense it."
As I previously stated, Ahsoka is one of the most popular characters in the Star Wars universe. Though it took a while for fans to connect with her, she eventually became someone we couldn't help but root for. She's an important role model for Star Wars fans. To have that character played by an amazing woman of color is such an influential moment for the franchise. It's no secret that the universe hasn't always been the most welcoming place for actors of color, so to have it continue to grow and evolve with a series like this is beautiful.
Ahsoka is set to premiere on Disney+ in August, so I advise parents to get those Halloween costumes ready now.