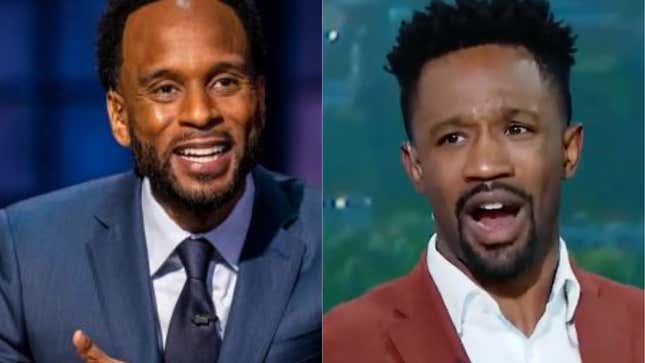 ESPN personalities Bomani Jones and Dominque Foxworth are two of the more thoughtful and intellectual brothers at the sports television company, so whenever they make an interesting assessment, best believe I'm going to listen.
Jonathan Beane on How Roc Nation Influenced the NFL
During a recent episode of The Right Time with Bomani Jones, Foxworth and Jones discussed the stories from day one of the NFL Draft. But in the middle of their discussion, Foxworth went off track and discussed some "changes" the NFL might implement because of the prominence of Black quarterbacks in the league.
"Something just hit me—there's gonna be some rule changes in the NFL," said Foxworth. "Who's the best quarterback in football? Patrick Mahomes? Who's the two highest-paid players in all the league? Lamar Jackson and Jalen Hurts. Who are the first three quarterbacks drafted in this draft? Black dudes. … Oh, we got a rule change coming down the pike."
He continued, "So, you might be listening to this and thinking that Dominique is arguing that the NFL is just flat out 'I hate Black people racist.' No, it's a different type of racism. It's because they think that you are a 'I hate Black people' type of racist. They know that the stars of this entertainment property are the quarterbacks. That is who the people who are three degrees removed from you who's a superfan they don't know nobody but four or five quarterbacks' names. And you know what they believe? The same way the NBA is probably concerned about all these international players, they know that the stars that sell consistently, that they have known to sell consistently are tall White dudes."
Foxworth later added that younger white athletes need to start playing quarterback so the NFL can get players more in the vein of Joe Burrow, Josh Allen and Justin Herbert.
"We need to get some more of them in the league because if we get to a situation where it's a bunch of Lamar Jacksons and Jalen Hurts the face of the league, the NFL is going to be concerned, not because they care who their labor is but because they think it's y'all who care who the labor is," said Foxworth.
Does the NFL have racist fans? 
Yes, of course. This shouldn't really be a debate. America is a racist country, so naturally, it will trickle down to the American citizens who consume sports, such as the NFL.
Does the NFL think its fans are racist?
They'll never come out and say it, but they continue to show it with their actions. For example, when Colin Kaepernick was attempting to make his comeback into the NFL, no team gave him a legitimate chance because he said he would still take a knee during the national anthem and still bring attention to issues important to him, such as police brutality.
NFL teams did not give Kaepernick a chance because they thought he couldn't at least be a backup in the league, they were worried about their bottom line. They thought that if they brought in a Black QB who was outwardly speaking out against and protesting the country's racism, then white fans would not consume their product.
As a result, he didn't get a job.
Will the NFL make changes because of the prominence of Black QBs?
This is where I disagree with Jones and Foxworth. Yes, it's true, Black QBs are becoming the new faces of the NFL, but I don't think the NFL will make any changes to deter that. Here are the reasons why:
They are helping teams win games.
For the majority of the NFL's history, teams and coaches thought that Black QBs did not have the intelligence to play the most mentally exhausting position on the field. But thankfully, times have changed.
Teams have realized that if you shrink the talent pool to only include white QBs, you worsen your chances of becoming a better football team. Forget about discrimination, accessing a wider pool of players gives you a better chance to find players that will help you win. Teams came to their senses and discovered that if they gave Black QBs chances, they'll more than likely find their franchise player. This is why the first three QBs taken in the 2023 NFL Draft were Black.
The league is more popular than ever because of Black QBs.
Don't get me wrong, I think most of the country and the NFL would prefer that the face of the league was a white player, but the numbers don't necessarily suggest that.
Super Bowl 2023, which marked the first time two Blacks QBs played each other in the biggest game of the year, is the most-watched Super Bowl in history. It's true, Nielsen just revised their numbers. If there was evidence that all these talented Black QBs were hurting the league's bottom line, then I think changes would be coming down the pike. But not only are they not hurting the league's bottom line, they are growing it.
So while I agree with Foxworth's premise that the NFL thinks that their fans are racist, I don't think they're going to do anything about their star Black QBs until it affects the dollars they get in their pockets.