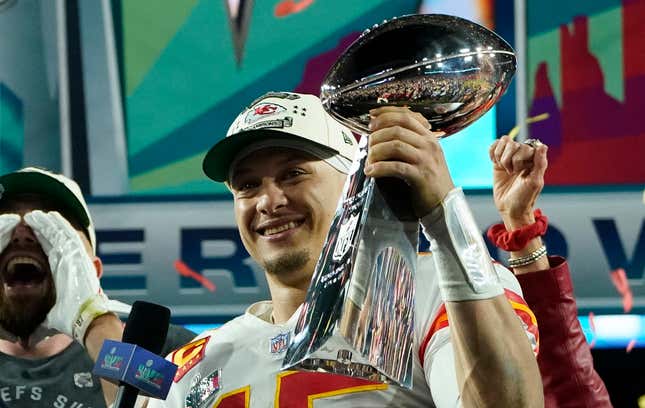 The duel between the first Black quarterbacks to battle each other for a Super Bowl win lived up to all the hype. Jalen Hurts, Philly's golden child signal caller got off to a fast start, running for two first-half TD's and running for a third, making the game look like it was at risk of being a blowout for the Eagles.
The problem for Philly fans was that Patrick Mahomes was on the other sideline, nursing a re-injured ankle, limping, playing from behind and therefore completely capable of pulling out his second Super Bowl win in three tries. In his postgame interview, Mahomes refused to say the D-word, so I'll say it for you: if the Chiefs aren't a dynasty yet, I'm not sure what else they need to do to get there.
Mahomes has been to five straight AFC Championship games, leaving the other 16 teams in his conference to battle it out for the right to play (and usually lose) to him on the way to the Super Bowl. At only 27, with his second championship ring, NFL MVP and Super Bowl MVP under his belt, he's still at least three years away from when most NFL quarterbacks are regarded as reaching their peak playing years, and where their mental acumen and physical talents have both matured.
It's terrifying to think Mahomes may not have reached his ceiling in either category. Even if he hasn't, he's already solidified a spot in NFL history by winning more than one Super Bowl and claiming the game's MVP award both times. Consider that the two decades that preceded Mahomes' dominance is considered a golden era of NFL quarterbacking, with a handful of quarterbacks who essentially dominated the Super Bowl in that time. Of the names with more than one championship to their credit, Tom Brady, Peyton and Eli Manning and Ben Roethlisberger, all are headed to the Pro Football Hall of Fame. Mahomes still has already equaled them all except for Brady, who's considered the greatest player ever.
Mahomes still conceivably could play 15 more years, assuming he can stay healthy (which is a big assumption given the current condition of his right ankle).
But let's not spend too much time giving Mahomes props and ignoring Hurts, who engineered a strong first half and kept the Eagles in the game until the very end. He finished with a ridiculous stat line of his own: 27 of 37 for 304 yards throwing complemented by 15 carries for 70 yards and three touchdowns on the ground. He finished the regular season lording over a prolific offense in which he threw for 3,701 yards, 22 touchdowns and only six interceptions all season. Those numbers–especially in a Super Bowl–would have been enough to put him in MVP contention in any year.
Well, at least any year a guy named Mahomes wasn't around to spoil the party.