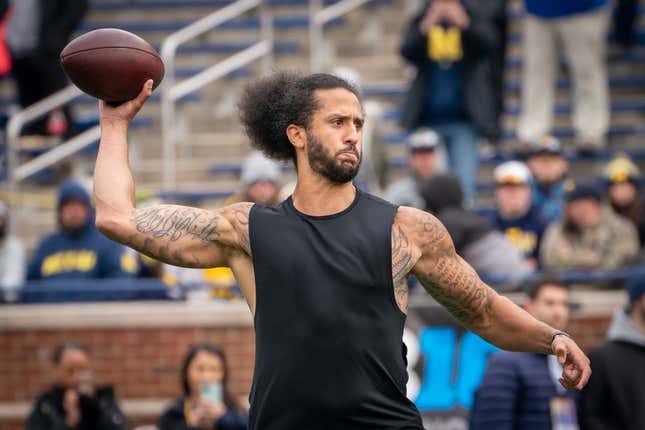 Back in March, we told you about the release of Colin Kaepernick's graphic memoir, "Change the Game."
ULTA Beauty Faces A Boycott For Being Trans-Inclusive In Their Marketing
The story, written for readers ages 12 and up, follows a teenaged Colin – a high school star athlete faced with a big decision. While colleges, the MLB, and his parents are excited about his potential as a major league pitcher, Kaepernick has a different path in mind. That path would eventually lead him to playing in the NFL and playing an important role in the fight for civil rights.
Now this inspiring YA memoir has a new audio adaptation. And Kaepernick narrates the story about his decision to pursue his passion.

The Root caught up with athlete and activist Colin Kaepernick to talk about his new Audible Original, Change the Game.
The former 49ers quarterback says he decided to share his story with the hopes of inspiring young people to seize their power. "We don't control all of life's circumstances, but we can control how we react to them - and that opens up the possibility of achieving our dreams and hopefully even changing the world in the process," he said.
Even if you've already read the book, the former 49ers quarterback says the Audible is worth a listen, describing it as "a truly immersive experience" that brings the voices and action in the book to life. "The audio experience is special," he said. "You feel like you are a part of the story."
As a teen, Kaepernick had no idea what impact his decision to pursue football would have on his life and the sport. But he says his inspiration to stand up for causes he believes in – even while putting his own career in jeopardy – comes from athletes like Allen Iverson, who dominated in their sports while remaining unapologetically Black.
"When being true to yourself runs counter to oppressive norms, you are bound to upset some people," he said. "But the more important question to ask those who are upset is, 'Why does someone else's humanity make you mad?'"
After listening to the Audible Original, Kaepernick hopes listeners will see that the right decision isn't always easy one, but taking the road less traveled can make all the difference in the world.
"Throughout our lives it's often difficult to know the outcomes of the decisions we make. If we chase our passions, though, and do so with good intentions, I believe good things happen."