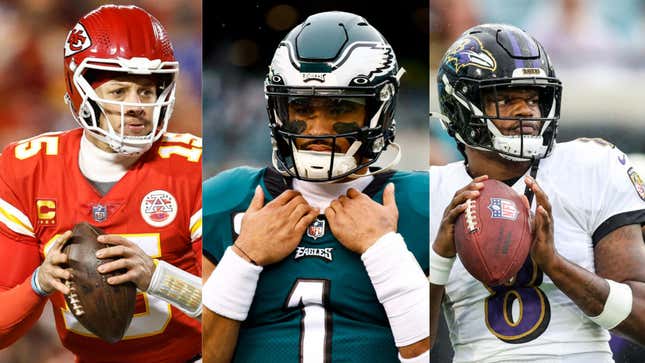 It's official. For REAL now. Tom Brady has retired from the NFL after playing quarterback for 23 seasons.

In case you didn't know, he's collected seven Vince Lombardi Trophies, five Super Bowl MVP awards, three league MVP awards, and more regular-season victories than should be warranted for one player. (He's also the reason behind one of my saddest days as a sports fan.)
Now, with Tom Brady walking away from the sport, there's room to speculate who the new "face" of the NFL will be. The person at the top of the list is Kansas City Chiefs quarterback Patrick Mahomes, but he has not officially snatched that crown away yet.
Yes, he's the best player in the NFL and has accomplished so much more than his younger contemporaries. But there's only one way to take the crown and make sure nobody ever takes it again (until you retire). Winning.
Brady cemented his status in the league by winning multiple Super Bowls in multiple decades of his life. He won three in his 20s, two more in his 30s and another two in his 40s. He had an unprecedented run of winning.
Now it's your turn Patrick Mahomes.
In a golden era for Black gunslingers, Pat has an incredible chance to outshine them all. But that doesn't mean other players can't catch him. After all, he only has one Super Bowl win.
Yes, Jim Brown, Lawrence Taylor, Walter Payton and other iconic Black players have certainly left their mark on the game. But none of them were quarterbacks.
In the league now there is a solid number of talented Black QBs who are stars in their own right and have a chance to win a Super Bowl in the future. Lamar Jackson has already won an MVP and was the most popular player in the league during the 2019 season. If the Ravens (or another team) put the correct pieces around him, Jackson could be vying for Brady's spot.
Jalen Hurts hasn't been around as long as Mahomes or Jackson, but he's already in the Super Bowl after his third season and has a great chance to win it. His talent may not jump off the TV like the other two, but his story, the way he and carries himself may lead to him being the NFL's golden boy.
Not to mention, there is a multitude of young up-and-comers who are getting better such as Justin Fields and Kyler Murray, and Black QBs who will be drafted in 2023 such as Bryce Young and CJ Stroud. They're all potential stars in the league.
So while this historical Super Bowl LVII matchup will be one to remember because of the signal callers on each team, it could also cement Mahomes as the face of the most popular league in the country. Will he make it happen? Or will another one of his Black peers take it?