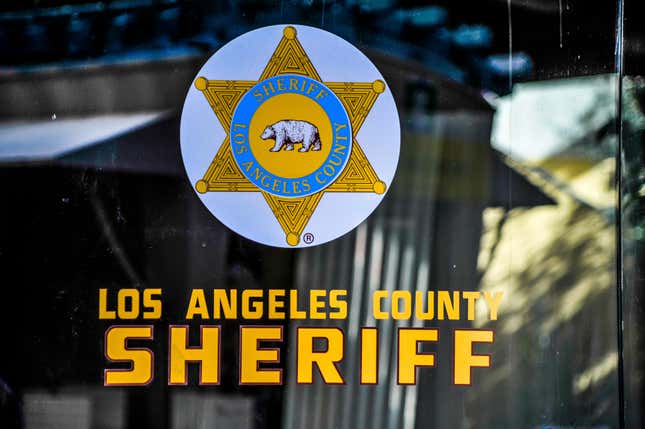 In this episode of police department drama, the East Los Angeles sheriff's station is under investigation after a memo obtained by The Los Angeles Times exposed a scheme from the captain to keep an "angry Black sergeant" from a job promotion.

Small Town Horror Story: The Vietnam Veteran Who Refused To Leave A Man Behind
The sergeant in question is Mr. Reginald Hoffman. Reports say in November 2022, he sued the county alleging he faced racial discrimination, retaliation and harassment from the deputies at the East L.A. station. He claimed Sheriff Alex Villanueva had been harassing him since 2019 and repeatedly denied him promotions based on his race. He also alleged the sheriff "waged a race war" against Black LASD officers by manipulating the hiring process to ensure the Latino deputies were the dominant demographic.
The retaliation claim is where it gets juicier. Per The Times, the suit says Hoffman blew the whistle about the presence of Latino gang members, "Banditos," within the department. This is also noted in the January memo, obtained by the LA Times, where Lt. Shawn O'Donnell raised concerns about Captain Pilar Chavez and her alleged racist behavior targeting Hoffman.
Read more from The LA Times:
According to the memo, Chavez went on to tell him that higher-ups had ordered her to interview sergeants for a position in the detective bureau. But Chavez allegedly said that was "bull——" because she wanted to pick her own sergeants — and she had two people in mind.

Neither one was Hoffman.

"Captain Chavez stated they were Hispanic and they were the ones she could trust out of the sergeants who wanted the position," the memo says. "She also told me there was no way she was going to allow Sergeant Hoffman to get the position because he was an angry Black guy who filed a claim and for being the anonymous caller at the COC hearing."
The memo also states that Cpt. Chavez reached out to a high-ranking lieutenant to get Hoffman transferred out of the station, calling him a "pain in her ass" and referring to him once again as an "angry Black." County lawyers initially clapped back at Hoffman's lawsuit stating there was no relationship between the claims, Hoffman's race and the captain's comments.
Looks like this memo may blow this rebuttal out the water.