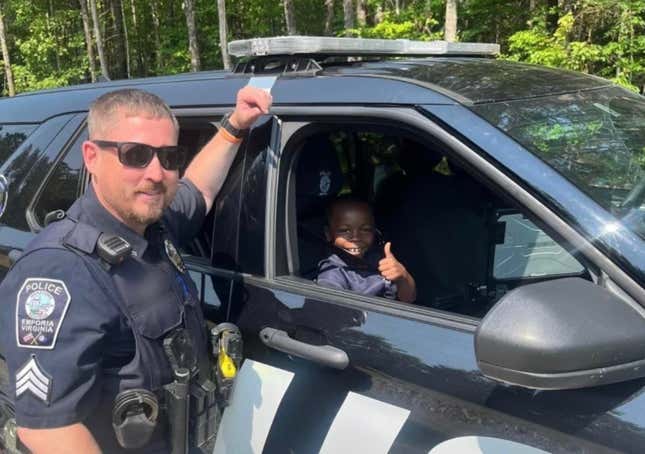 Correction: Robinson's uncle was the victim of the police shooting. Updated 6/20/2023 at 3:30 p.m. ET
Tackling A Black Maternal Health Crisis & Embracing Reproductive Justice | The Root Institute
The latest stories regarding an encounter between the police and a Black child have ended in a tragedy. However, a 7-year-old aspiring police officer from Virginia will brighten your day with his encounter with local cops that resulted in a happy ending.

Brittany Robinson, mother of five from Emporia, Va., said her son, Ta-Vion has always wanted to be a police officer. His dream stemmed from the excitement of watching the police department march through the town's annual parade with their float, cruising on their motorcycles, flashing their lights and honking their horns.
"He said, 'Mom, I wanna be a police officer when I grow up.' Since then, he just took a liking to the police," said Robinson.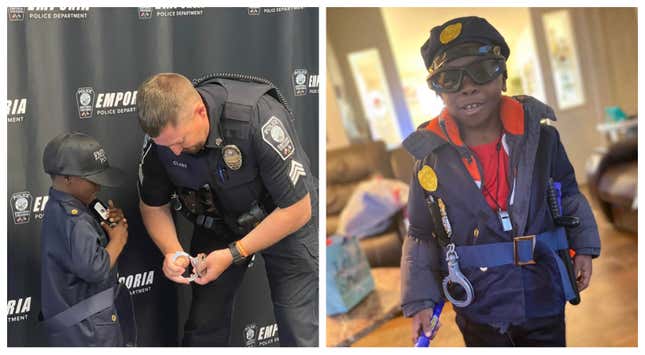 Ta-Vion wasn't just interested based on the flashing lights and fancy uniforms. He also built a relationship with the police starting when the town led a peaceful protest the summer George Floyd was murdered by Minneapolis police. Robinson's uncle was killed by an Emporia officer in 2008 but since then, she hasn't hardened her heart toward law enforcement. She was reminded that "good apples" exist, especially when she saw the (white) sheriff pick up Ta-Vion and march with him on his shoulders during the 2020 protest.

After noticing the boy's unwavering fascination with the department, he was gifted a police costume for Christmas. Robinson sent a photo of her son donning his new uniform to the Emporia police department asking that they grant his wish to tour the station. When his wish was granted, the video of his little adventure got love from over 5 million people on TikTok.
"I said, 'Ta-Vion, look, you got all these likes on TikTok from your video.' He said, 'Aw man, I'm famous!" Robinson recalled.
Robinson said she kept the tour as a surprise until the day of when she woke up Ta-Vion and told him to be ready in his police uniform by 9 a.m last Friday. "I bet you I'm going to the police station," he taunted, poking his mother with questions every few seconds. Then, just as he suspected, the police cruiser pulled up in the driveway.
The two officers greeted him and put his booster seat in the back of the patrol car for a ride down to the department. He got the complete experience from flying the drones to riding in the golf cart. He also left with tons of goodies including a collectible miniature car from the major's office and a badge. Since that day, Robinson said Ta-Vion can't stop talking about it and the officers insisted to bring him back for department-hosted events for the kids.
Robinson always makes a point to remind all of her children that while they should be careful when encountering the police, not to judge a person by their badge.
"There are some good police officers in this world regardless of what other people say," Robinson said. "I really think [Ta-Vion] being a police officer will have a positive impact in this world."