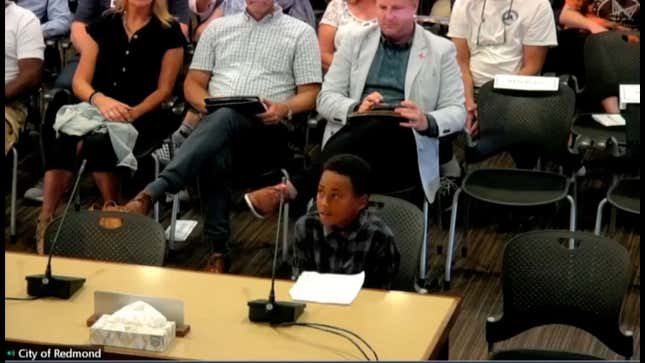 Right on the heels of the racially targeted attack of a Black Oregon city councilman, a fourth grader spoke up at a council meeting to share a speech about the hurtfulness of racist language. According to the New York Post, the child experienced his own share of enduring racial slurs.
This Book Aims To Arm Kids With The Tools To Fight Racism
Gavin Alston, a 10-year-old student from Redmond, Oregon jumped into the conversation at the city council meeting Tuesday to add some remarks on the current tensions around racism. Just a week ago, Mayor Ed Fitch found a dead raccoon placed outside his office with a note addressed to City Councilor Clifford Evelyn with a ton of racially hateful language, per NBC News.
With nerves shot following such a disgusting act of hate, the city was given something to think about by a young boy. Gavin  reminded residents with a handwritten speech that racism on this scale is not as uncommon as some may think.
Read more from the New York Post:
Reading from a sheet of lined notebook paper on which he had written his speech the night before, Gavin told the Redmond City Council that he has been subjected to racist treatment ever since he transferred to a new school, reported the Washington Post.

"A lot of people have been calling me the n-word or a monkey, even 'Black boy,'" Gavin said. "One girl said to me, 'I would hit you, but that's called animal abuse.'"

"Why should us black people suffer from racism, when there are other races doing murders," Gavin said. "When us black people are showing respect, but we still get treated like crap."

He continued: "We should not get treated like this. We should get treated equally. This is not fair to us black people."
Following the boy's brave remarks in front of the majority-white crowd, the room erupted with applause, the report says.
Though, he left the meeting reminded of the hate-filled atmosphere he had to return to the next morning, according to The Washington Post. However, there is hope that the words from a child will impact the hearts of people who have the power to hold racists accountable - elementary or adult.