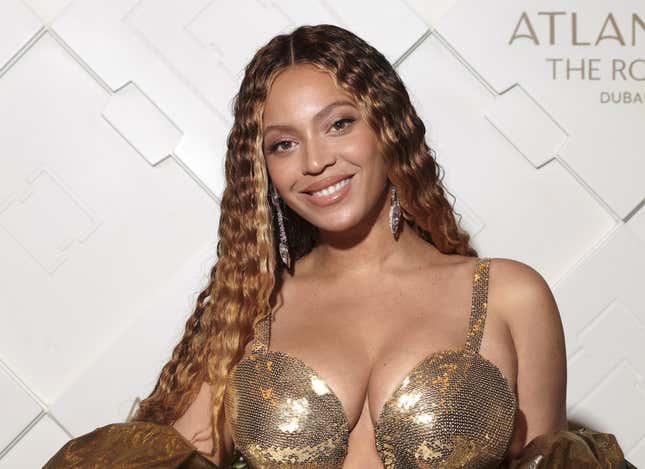 Before Sunday's Grammys telecast hit CBS, our one true queen Beyoncé was already breaking records. During the Premiere Ceremony, where the Recording Academy hands out some of its 91 awards, the superstar picked up two early trophies. Her No. 1 single "Break My Soul" won for best dance/electronic recording, and "Plastic Off the Sofa" was named best traditional R&B performance. This brings the Renaissance artist's Grammy win total to 30. Since she leads all nominees this year with nine, it's a pretty safe bet that she will probably break late conductor Georg Solti's record for the most Grammy wins in history, which currently stands at 31.

Music Producer & Beyoncé Collaborator, Dixson, Plays That's So Random
Her chart-topping, record-breaking Renaissance is up for album of the year. Shockingly, Queen Bey has never won this award. I know, right? We're still mad about Lemonade. Adele, Mary J. Blige, Kendrick Lamar and Lizzo are all spectacular artists, but if Bey doesn't win this year, we will be having words with the Recording Academy.
The Evolution of Beyoncé: The Rise To R&B Royalty
The Evolution of Beyoncé: The Rise To R&B Royalty
Like most things she does, her attendance at the ceremony is shrouded in mystery. We won't know if she's going to show up until we actually see her on stage. While the most nominated artist traditionally performs on the broadcast, Beyoncé does what she wants, when she wants. Of course, we did hear that Jay-Z was set to perform alongside Dj Khaled, so that's a good sign.
On Wednesday, she once again broke the internet with her announcement that she's taking the Renaissance on a world tour. She kicks things off in Europe in May, then comes to North America in July. After its debacle with Taylor Swift's tour, Ticketmaster is under intense pressure to get this Beyoncé on sale right. Listen, Ticketmaster, if you thought the Swifties were rough, you don't want to know what happens when you piss off the Beyhive.