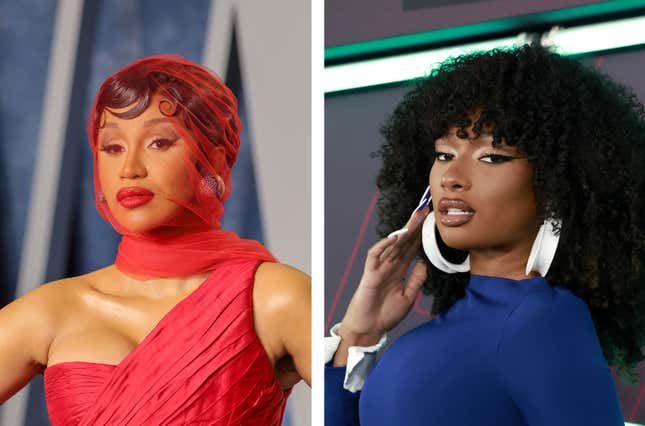 Megan Thee Stallion is letting all the haters know that she can't be broken. Now, she's taking things to another level with a new collaboration.

Bill Russell: Legend On Netflix Is Our TV Pick This Week
On Tuesday, Meg announced that she's teaming up with fellow hip-hop superstar Cardi B for another headline grabbing track. Alongside a sexy, colorful photo of the Grammy winners enjoying lollipops, she wrote, "BONGOS Cardi x Megan Thee Stallion 9/8."
As you'll recall, they memorably teamed up on the 2020 hit "WAP," which was the subject of endless controversy. Two Black women being honest about their sexual needs was too much for some people. With the whole world still on lockdown, we had plenty of time to watch, and rewatch, the much-talked about video.
Cardi recently said she was done with collabs while she focused on her new album, so this comes as a bit of a surprise. "I'm not going to release any more collaborations, I'm going to release my next solo single," she told Vogue México y Latinoamérica. "Now I'm working on the cover and ideas for the next album because it's definitely coming." Maybe she thought she was done until this track came along, and it was perfect for a reunion with Meg.
After everything she's been through with the Tory Lanez trial, it's fantastic to see Meg getting back to her Hot Girl life and trying to move on from all the pain and trauma.
As you would expect, the news sent the Bardigang and the Hotties into a social media frenzy. One fan cut right to the point, writing, "It's Finna Get Krazzzzy #BONGOS."
Another user highlighted how long fans have been waiting for both women to deliver new music, posting, "Cardi finally gives us more music plus megan comeback after she been missing this summer wha! I must be in heaven."
Noting how their first song was so unforgettable, one person wrote, "i'm sorry but we have no choice but to tune in, 'WAP' was so iconic."
I don't know what "Bongos" is about, but it's a safe bet it's going to be your new favorite bad bitch anthem. Seriously though, we need these collaborations between women in hip-hop so we can have more female empowerment moments in the genre. Let's normalize women being open and honest about their sexuality and desires.