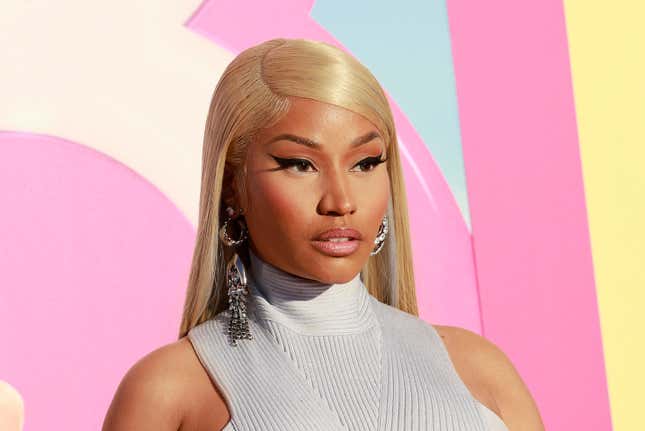 With the 50th anniversary of hip-hop less than a month away, Netflix is shining a light on the women who've been instrumental in taking the genre to the next level in the upcoming docuseries, Ladies First: A Story of Women in Hip-Hop. But fans of Nicki Minaj aren't too happy about the recently released trailer which doesn't feature the Pink Friday rapper at all.
Oprah And Michelle Obama in The Light We Carry Is Our TV Pick This Week
Split between four parts, the forthcoming project is set to recontextualize the irrepressible women of hip-hop and their role in the genre's 50 years by reinserting them into the canon where they belong: at the center, from day one to the present day. Each of the installments features a parade of iconic emcees, like MC Lyte, Queen Latifah, and Rah Digga; up-and-comers and artists currently at the top of the charts, like Latto and Tierra Whack; and more alongside key figures from record labels, stylists, and journalists.
Upon seeing the trailer, however, the Barbz (as Nicki fans are so affectionately referred to as) took to Twitter to express their disdain over not seeing their fave, given her cultural and musical impact.

"Imma just say this: you don't even have to be a Barb to understand Nicki Minaj and her impact on female rap," wrote on user. "She's the queen. Period. It is what it is. To exclude her from this is criminal and I hope it's just the trailer she's missing from and not the actual documentary."
Another user also noted the lack of inclusion from other notable femaile rappers in the trailer in addition to Nicki such as Missy Elliott, Foxy Brown and Lauryn Hill.
"Starting a documentary about black women in hip-hop with Cardi B AND excluding Nicki Minaj, Lauryn Hill or Foxy Brown from the trailer ?! Y'all are sick," said another.
However, two producers on the film are coming to the project's defense. Shawn Allen, who claims to have co-produced the series, offered an explanation as to why the "SuperBass" rapper wasn't in the trailer and further implied that she may not be featured at all.
"Nicki didn't let us license her music and videos," he explained on Twitter. When asked by a fan if the plan was to include her at all, Allen responded: "Yes, but it didn't make sense because she didn't give us any licensing. Her nor Missy."
Additionally, dream hampton, executive producer and director of one of the episodes in the series attempted to add perspective to the uproar, assuring fans that while there will be plenty to critique, no ones was intentionally left out.
"They'll be plenty to critique abt this 4 hour project, I assure you. And no one was 'left out' All were asked & asked & asked again. But carry on," she said.
Now, we all know that it's hard to grasp a project's fullness in 30 seconds, and studios often release several versions of a trailer before a project comes out, so fans reaaaaally ought to cool it now with their rushes to judgment before we see the whole thing. But then again, these are stans we're talking about so this advice will probably fall on deaf ears.
Ladies First is set to air on August 9, only on Netflix.