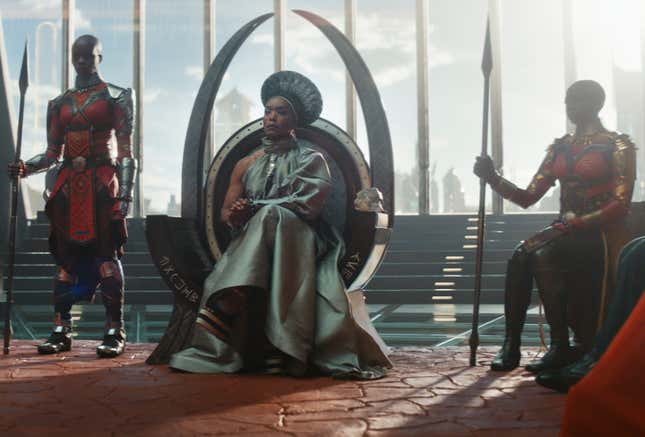 It's been around six weeks since Black Panther: Wakanda Forever hit theaters and I'm definitely ready to revisit the fictional African country. Thankfully, none of us has to wait much longer since the Marvel blockbuster will premiere on Disney+ on Feb. 1. So you can feel all those intense emotions of grief, despair, joy, anger and acceptance without nosy theatergoers judging you.

2023 Oscars: Ruth Carter On Turning Angela Bassett Into A Queen Through Costume
Per a press release provided to The Root, Wakanda Forever, along with 16 other MCU movies, will stream in IMAX Enhanced, "which gives subscribers more picture with an expanded aspect ratio for an immersive viewing experience." I'm guessing this is complicated tech speak for "it makes your house feel like the movie theater." Of course, that's without the loud talkers, overpriced snacks and people who cough throughout the movie.
If you haven't had a chance to see the movie yet, I don't want to spoil it, but it follows Queen Ramonda, Shuri and their friends as they deal with the death of T'Challa. While grief is a central theme of the story, the film also features captivating character development for Shuri and M'Baku, as well as a stunning, award-worthy performance from Angela Bassett.
If you're watching at home, you can yell, scream and call Namor all the dirty names you want without anyone giving you a sideways glance. Or if you need a minute after Queen Angela's spectacular scene in the throne room—you know the one I'm talking about—you can pause and gather yourself, then resume watching.
The timing of the movie's release is no accident, as it will, no doubt, be the focus piece of the streaming service's Black History Month programming. Expect to see it at the center of a specialized tab highlighting how much Disney cares about Black stories. This category will include Black Panther, The Princess and the Frog, The Proud Family, Doc McStuffins and probably some sports content from ESPN+. How do I know this? These are the same projects the network showcased last year. There aren't a lot of changes when it comes to Black History Month programming.
It's also interesting that Wakanda Forever is set to debut ahead of the Feb. 17 theatrical release of Ant-Man and the Wasp: Quantumania, which is the start of Phase 5. So this means before you get too invested in the next phase of the MCU, you have two weeks for a full Phase 4 binge. Don't look at me like I'm the only one who'll be doing that.
Don't get me wrong, the moviegoing experience is definitely special, but there's also something comforting about avoiding germs, putting on your favorite pajamas, grabbing a homemade snack and just pushing OK on the remote.
Black Panther: Wakanda Forever debuts on Disney+ on Feb. 1.