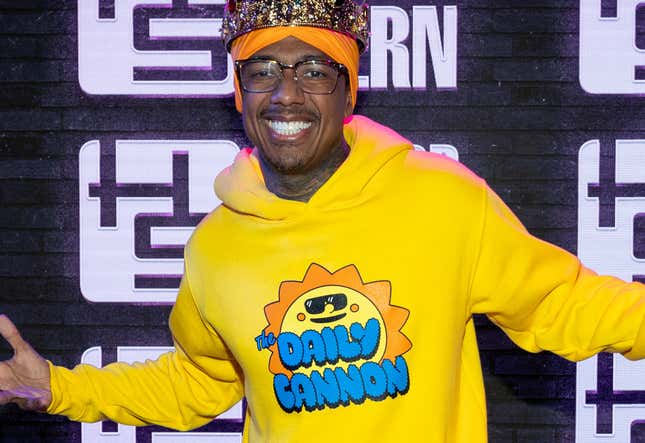 The cancellation of Red Table Talk has led to a lot of opinions and jokes. Not all of them are wanted or necessary, but now you can count Nick Cannon among the many voices we absolutely did not need to hear from. On a recent episode of his radio show The Daily Cannon, the actor/comedian called it "Toxic Table" and blamed the show for Will Smith's infamous Oscars night slap of Chris Rock.

Jabari Banks On A Potential Bel-Air Musical, Fresh Prince Cameos, & A Game of 'Which Aunt Viv?'
"If there was no Red Table Talk, then he wouldn't have slapped the shit out of Chris Rock," Cannon said.
I'm so completely exhausted with this never-ending narrative that Jada somehow forced Will to slap Chris Rock. Will is a grown-ass man who makes his own decisions. He has admitted himself that he was dealing with his own issues during that time, which led to his actions that night. Even if their well-documented marital issues were a part of the reason why he attacked the comedian during the awards ceremony, in that moment, Will made a conscious choice to leave his seat, go on stage and slap the hell out of Chris Rock in front of the whole world.
As Cannon continued his rant about Red Table Talk, he criticized the couple for making their relationship issues so public. The couple notably discussed Jada's "entanglement" on an episode of the series.
"That was royalty, Will and Jada. Then they brought it to the table," he said. "I don't want to know all this shit about y'all.I just want to mind my Black-owned business. I don't want to be up in everybody else's kitchen. Keep that shit to y'all selves."
I'm sorry. Is Nick Cannon trying to tell someone else to keep their personal lives to themselves? The same Nick Cannon who is constantly talking about his sex life and the mothers of his children? The same Nick Cannon who just told Howie Mandel that he has "super sperm?" The Masked Singer host is the last person who needs to call out other people for being too open with their private lives. As the discussion continued, co-host Abby de la Rosa defended the show saying, "It was an honest table. They are still [royalty]. It feels human, like, they're human. It feels relatable. They're trash too, like the rest of us."
As far as Red Table Talk's future is concerned, the Wild 'n Out star can stay mad because Westbrook Studios—Will and Jada's production company—is currently searching for new distribution for the series. So sorry, Nick, those uncomfortably honest conversations may not be over just yet.