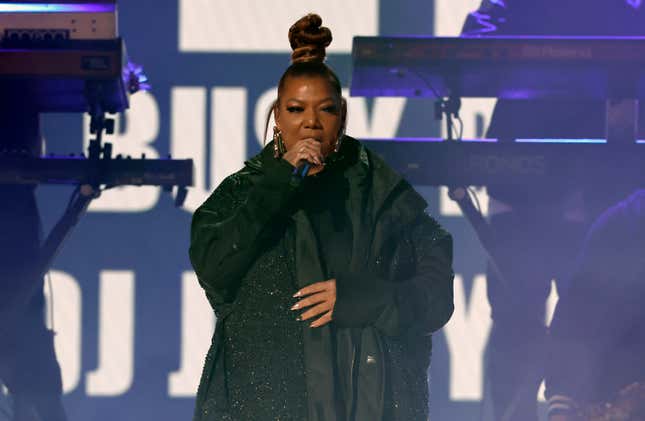 From Queen Bey being crowned with the most Grammy wins ever, to Lizzo's uplifting, gospel performance of "Special," to Viola Davis securing an EGOT, the 65th Annual Grammys might have been the Blackest show in the event's history. What really made the night fun were all the spectacular performances by Black artists. The past, present and future of R&B and hip-hop were represented by legends and new favorites.

Grammys 2022: 10 Black Artists Who've Won Album of the Year
Lizzo
First things first, any conversation about the most memorable performances of the 2023 Grammys has to start with Lizzo's inspiring version of "Special." Accompanied by an all-Black woman gospel choir, the Record of the Year winner held a sermon, showing everyone watching that it doesn't matter what the haters say, you are special exactly as you are. Host Trevor Noah described her as being "like if dopamine was a person." It was one of those show-stealing, star-making moments people talk about for years.
Hip-Hop 50
After a long, complicated relationship with hip-hop, the Recording Academy embraced the genre with a show-stopping tribute featuring some of its biggest names. It was like the Avengers of hip-hop assembled on-stage with appearances from LL Cool J ("I Can't Live Without My Radio"); Run-DMC ("King of Rock"); Salt-N-Pepa ("My Mic Sounds Nice"); Chuck D & Flavor Flav ("Rebel Without a Pause"); Method Man ("Method Man"); Queen Latifah ("U.N.I.T.Y."); Missy Elliot ("Lose Control"); Big Boi of Outkast ("ATLiens"); Nelly ("Hot In Herre"); Too $hort ("Blow the Whistle"); and Busta Rhymes bringing down the house with his crazy fast rapping on "Look at Me Now." And that's just a small sampling of the artists who were showcased in the performance curated by Questlove.
Mary J. Blige
Mary J. Blige delivering a show-stopping performance was the only sure thing of the night. As she sang the hell out of "Good Morning Gorgeous," the Queen of Hip-Hop Soul made us feel every word and once again took the Grammys to church.
Quavo
In the most heartbreaking moment of the night, Quavo paid tribute to his late nephew and bandmate Takeoff during the In Memoriam segment. As he rapped "Without Me," it was impossible not to feel how devastated he still is, while also marveling at the courage it must have taken for him to get through the song.
Stevie Wonder
If you're celebrating the biggest names in music, there's always time for a Motown tribute. While saluting the MusiCares Persons of the Year, Smokey Robinson and Berry Gordy, Stevie gave us a trifecta of classics, starting with "The Way You Do The Things You Do," then teamed up with Smokey on "Tears of a Clown," before bringing out Chris Stapleton and getting the audience on their feet with "Higher Ground." I hope the kids were taking notes on songwriting and career longevity.
Steve Lacy
Sometimes when an artist is on late in the show, they can get lost in the shuffle. However, Steve Lacy made sure we wouldn't forget his Grammys moment. His flawless vocals on "Bad Habits" reminded everyone why it was nominated for Song and Record of the Year, and why he won for Progressive R&B Album.
DJ Khaled featuring Fridayy, Rick Ross, Lil Wayne, John Legend and Jay Z
If you give DJ Khaled the opportunity to close out the Grammys, he's going to take full advantage of that moment. The prolific producer let the world know that for him "God Did" isn't just a hit song, it's a life motto. Meanwhile, Jay-Z hit the stage to remind the audience that he's more than just Mr. Beyonce. However, on a night when she breaks the record for the most Grammy wins ever, that's pretty much who you are, Jay.
While we have some serious questions about a few of the winners, the 2023 Grammys was one of the more entertaining outings of the annual event. Black music took center stage, with its contributions to the art form finally be recognized. It was a really fun night…right up until that last award.