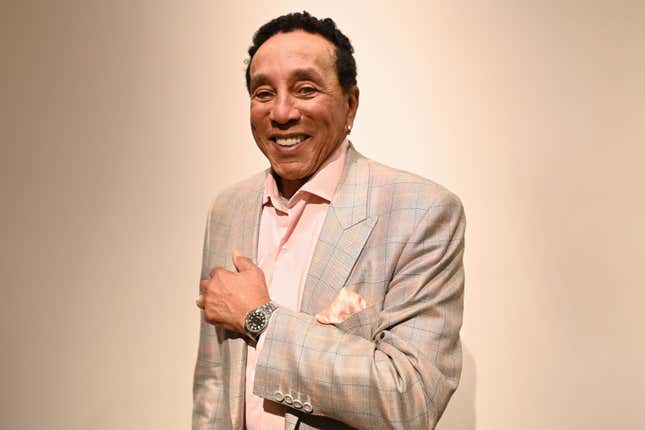 It's Grammy Week! Which means that not only will I get about three hours and 27 minutes of sleep between now and the awards ceremony on Sunday, but that it's the perfect time for one of the greatest songwriters in the history of ever, Mr. William "Smokey" Robinson Jr., to resurface with a new album.
Smokey Robinson Wants His New Album To Cause You "Gasms"
As we previously announced here at The Root, the Motown legend is set to drop his first new album in nine years (!!!!!!) very, very soon (April to be exact). And after recently revealing that yes, in a past life, he was a willing participant in a salacious affair with Diana Ross during his first marriage, the man who lured our parents into child support payments with seductive tunes like "Being With You" and "Ooo Baby Baby" has decided to name his latest collection of panty droppers GASMS.
As in, all caps.
As in, God's gift to green eyes is serious about some GASMS.
As in, how serious? Check out this tracklist and tell me Smokey ain't on demon time:

Gasms
How You Make Me Feel
I Wanna Know Your Body
I Keep Callin' You
Roll Around
Besides
If We Don't Have Each Other
You Fill Me Up
I Fit In There
Even at 82 years young, songs like "I Wanna Know Your Body" and "I Fit In There" prove the Rock and Roll Hall of Fame inductee is still a light-skinned menace to society. You fill who up?! And who you "Keep Callin'", sir? Which one of our great-grandmothers are you trying to "Roll Around" with?

And while I'm sure Smokey is off somewhere finalizing a lucrative sponsorship with either Casper Mattress or Pfizer, fellow members of the Black Delegation have taken to social media to express their own concerns about Mr. Pull Your Auntie turning Essence Fest (or your friendly neighborhood senior center) into Freaknik:
But at least he has one supporter in Twitter user @BreathlessMusic.
"lol ya'll tryna make fun of Smokey Robinson's new album title 'Gasms' but he out here creating for a whole generation that still wanna get down with the get down lol," she wrote. "let them boomers boom in peace yo."
So if you want Smokey to know your body too, make sure to indulge in some GASMS this April.