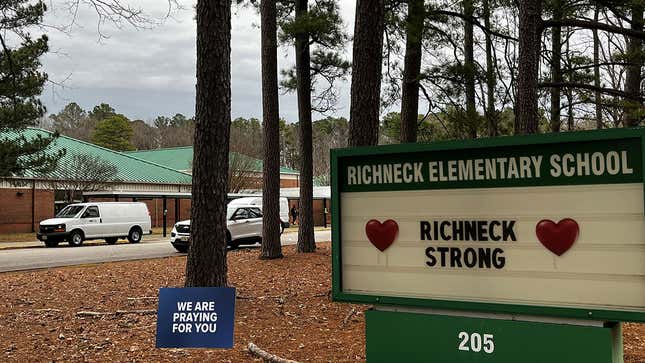 Some may wonder what was going through the mind of the 6-year-old who shot and injured his teacher in January. According to a newly-released affidavit, the tiny boy boasted about the incident afterwards, per 10WAVY News.
Tackling A Black Maternal Health Crisis & Embracing Reproductive Justice | The Root Institute
"I shot the bitch dead. I did it," an employee allegedly overheard the boy telling the police.
The son of Deja Taylor was accused of bringing a firearm into Richneck Elementary on Jan 6., and pointing the firearm at first grade teacher Abigail Zwerner as she read to the class.
Zwerner sustained a gunshot wound to her hand and chest. She recalled in an interview after her release from the hospital that she grew fearful of the boy after hearing stories of his violent behavior in other classes. Local prosecutors declined to bring charges against the boy because he wouldn't be competent enough to understand the legal process. His mother said the boy suffered from an "acute disability" and was treated at a medical facility.
She also said it was unclear to her how her son got a hold of her gun because she kept it concealed at the top of her dresser in a lock box with the trigger lock on. However, the boy confirmed to the authorities that he got his mom's gun the night prior. Prosecutors decided to hold his mother accountable since the gun belonged to her. 
Read more from NBC News:
"People have talked to him about that, but I don't know that any adult knows exactly how he got the gun," Ellenson told ABC News.

As part of the investigation, Taylor, 26, pleaded guilty in federal court in June to the use of marijuana while possessing a firearm. She is expected to be sentenced in October and could receive 18 months to 24 months in prison. The narcotics were discovered during a court-ordered search of the home in connection with the shooting at Richneck Elementary School, federal prosecutors said. It is illegal to use marijuana while possessing a firearm under U.S. law.

"A search of Taylor's phone revealed numerous text messages illustrating the pervasive scope of Taylor's marijuana use," according to prosecutors. Meanwhile, "a lockbox was not found in either of the residences, nor was a trigger lock or key to a trigger lock ever found."
Zwerner filed a $40 million lawsuit against the school district alleging the staff members were warned three times the boy had a firearm on him that day but nothing was done to keep him from ending up in her classroom with it.
Meanwhile, Taylor's attorney said the boy is still in treatment. "The child, he's obviously got a lot of issues, and he's in therapy. We're all pulling for his continued improvement," said attorney James Ellenson.