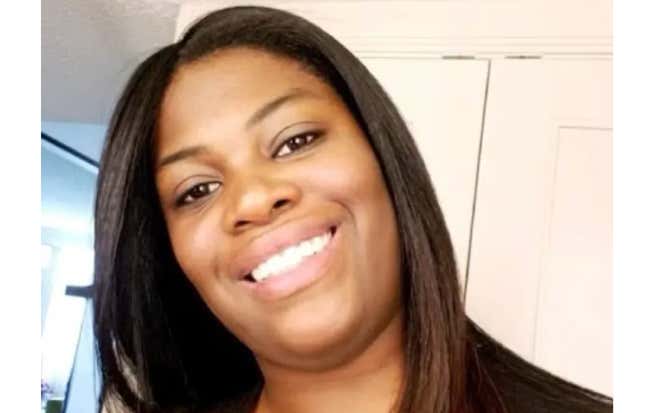 How does a woman get shot and killed and her shooter is still on the loose? Residents of Ocala, Florida are asking the same question in the killing of a Black woman who was gunned down by her neighbor Friday. According to NBC News, the incident was the result of an ongoing feud.

Here's The Moment 20/20 Co-Anchor Deborah Roberts Felt Like She Made It | Securing the Bag: Part 5
Ajike "AJ" Owens' children were playing in a field near an apartment complex when suddenly, a white woman came from the area and began yelling racial slurs at them, according to an account from attorney Benjamin Crump. One of the children accidentally left behind their iPad which the woman seized. When the child went to retrieve it, the woman allegedly threw the device both hitting the boy and cracking the screen. The woman also allegedly threw a pair of roller skates at the children as well.
Naturally, the children went back home to tell their mother what happened. Owens then walked over to the neighbor's door to speak to her about the incident but things took a fatal turn.
"She knocked on the door, and at that point, the woman allegedly shot through the door, hitting AJ, who later died from her injuries," Crump said in the statement.
Read more from NBC News:
At a news conference Monday, Marion County Sheriff Billy Woods did not confirm or reject Crump's account, telling reporters he was not "going to stand here and tell you what they're putting out there is inaccurate. It's just I don't know yet." Here's what the sheriff said he does know:

- There had been a long-standing "neighborhood feud" between the shooter and Owens about her children.

- The children may have been hit by an unspecified object. "Was something thrown at them? Yes, but not directly at them of what we're being told now," Woods said. "It just unfortunately may have hit them." He added: "The children are a big part of answering a lot our questions."

- When Owens came to the shooter's door, there was a heated exchange. Owens was shot through the door.

- At least two of Owens' four children may have witnessed the shooting, which occurred about 9 p.m.
Because Florida is a good ol' "stand your ground" state, law enforcement must determine whether Owens posed an imminent threat or was simply acting as a mother trying to get to the bottom of an attack on her children. While they dilly dally on that decision, they are not authorized to make an arrest, the Sheriff Woods said.
Well... they made an arrest when Andrew Lester shot 16-year-old Ralph Yarl from behind his front door - the same manner Owens was shot - despite Lester's self-defense claim that he was frightened by the teen.
"A closed, locked door. The door never opened. My daughter, my grandchildren's mother, was shot and killed with her 9-year-old son standing next to her. She had no weapon. She posed no imminent threat to anyone," Owens' mother, Pamela Dias, said via NBC.