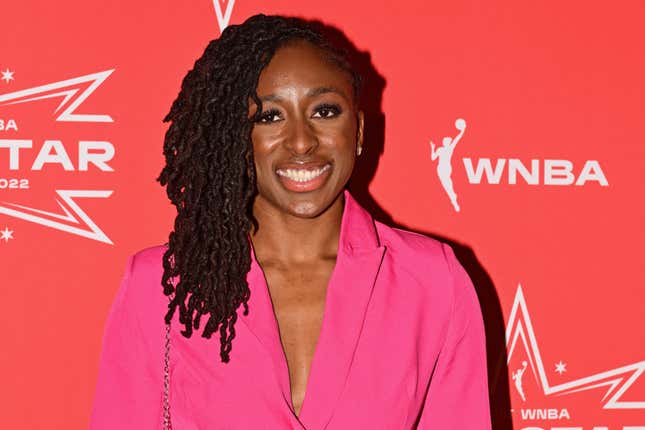 Nneka Ogwumike isn't just a WNBA All-Star forward for the Los Angeles Sparks, she's also the president of the Women's National Basketball Players Association (WNBPA). In the midst of an active WNBA free agency period, the 2016 MVP decided to stay with the Sparks. On Monday, during a press conference announcing her official re-signing with the team, Ogwumike discussed her excitement at watching other players call their own shots during free agency, Brittney Griner's return to the league and her plans for the 2023 WNBA season.

Like most of the sports world, Nneka is thrilled to see Griner back home and is especially happy to have her back on the court. Ogwumike was among the many WNBA players who advocated for Brittney's release from Russia.
"When it comes to BG, so excited that she's back, so happy to see her. I hope everyone feels the same," the 2016 WNBA champion said. "We're excited to have our opener against her, which is going to be amazing. We just want her to be happy and to be healthy. We're encouraging her to come back on her own time. But, it's not unlike BG to come out quickly and say that she was going to play."
As previously reported by The Root, Griner's return to the league brings the issue of travel back to the forefront. Due to safety concerns stemming from her wrongful detainment in Russia, the Phoenix Mercury center cannot fly commercially. If she is forced to fly privately, that leads to questions about fairness, as one team can't have the advantage of charter flights while others are forced to use commercial travel. Superstar Breanna Stewart made this a central issue in her free agency negotiations, and it's something Ogwumike also wants to see the WNBA invest in. She explained that it all comes down to a health and safety issue for players.
"Of course, given player health and safety, I think that the conversation around travel is definitely centered around her because quite frankly, she cannot fly commercially," the seven-time All-Star said. "I'm hoping that something will happen so that she can fly safely and comfortably to be able to compete at the highest level in a league that missed her so dearly."
"I look forward to working with the league to figure out what we can do, because the way that I see it is we're celebrating so much growth in this league…for us to be able to play more games in a healthy way, for the product to look good on the court," Ogwumike continued. "We want to contribute to all of that growth. The conversation around how we travel between games is incredibly necessary. We're gonna have to figure out what we can do to ensure that everybody has an equal playing field when it comes to how we travel. Health and safety is first and foremost. So that's what I really think a lot about when it comes to BG."
From Stewart signing with the New York Liberty, to Candace Parker heading to the Las Vegas Aces, to the Connecticut Sun trading Jonquel Jones to New York, this has been an active free agency chock full of surprises. For Nneka, it was fun to see so many of her colleagues taking big swings when it comes to their careers. As the president of the Players Union, she is one of the people responsible for the fact that players have so many options now.
"I feel like since we signed our CBA, each year is increasingly more active. It's really amazing to see so many free agency WNBA headlines in the news. I think it's incredibly important for us to continue to maintain this growth, which also obviously leads to accessibility," she said. "I'm happy to see players really taking charge and figuring out exactly what they want out of their careers and where they can get it. In a lot of ways I feel like we also kind of preempted the NBA trade deadline activity. It's just fun to be able to see this league be peer-led. I'm always here for the players and what they want to do and how they want to do it. As long as it's covered and contributes to the growth of the league, it can't be bad."
Nneka and the Sparks begin their 2023 WNBA season at home on Friday, May 19 against the Phoenix Mercury.