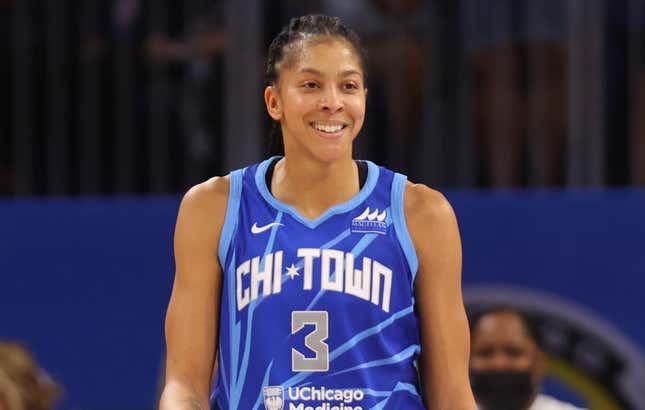 I know everyone is obsessed with the NFL and NBA right now, but don't forget about the WNBA. With major names like Jonquel Jones, Breanna Stewart, Courtney Vandersloot and Dearica Hamby making moves, the league is currently in the middle of an extremely fascinating free agency period, and one of the biggest names in the sport has just sent shockwaves through the entire basketball world with a very surprising decision. On Saturday, two-time MVP Candace Parker announced that she was signing with the WNBA champion Las Vegas Aces. In an Instagram post, the seven-time all-star said that the decision to head to Las Vegas was best for her family.

"When I made the decision to go to Chicago in 2021, I made the decision to go home and be with my family in the place where it all began," Parker wrote. "I am beyond grateful for the opportunity to win a championship in my hometown and parade down the same streets I watched the Bulls parade down as a young girl first falling in love with the game of basketball."
"As I've gone through free agency this time around, of course I'm thinking of where I can compete for my third championship, but the words home and family are what I kept coming back to. No different than when I signed with Chicago," the two-time Olympic gold medalist continued.
The TNT NBA analyst went on to explain "my family's home is on the west coast." With her daughter, Lailaa, about to start high school, Parker doesn't want to be away from her family for long periods of time during the season.
"I need to be there for my daughter, for my son, for my wife," she wrote. "I can't be without them for parts of the season when Lailaa is in school and I won't miss her volleyball games or school dances simply because of distance. Lailaa starts high school in August and I need to be there for her, just as she's been there for me."
I cannot overstate how much this move changes the landscape of the WNBA. In her last two seasons with the Chicago Sky, Parker has played at MVP levels. The Aces already have A'ja Wilson, Chelsea Gray and Kelsey Plum in its starting lineup. Now it's adding a bonafide legend of the game, making the defending champions even stronger. I guess superteams have finally made their way to the WNBA.
As if Candace Parker going to Vegas isn't a big enough game-changing shift, women's basketball fans are now waiting to find out where Seattle Storm superstar Breanna Stewart will land. The free agent has reportedly narrowed her choices to the Storm and the New York Liberty. New York has already acquired 2021 MVP Jonquel Jones, setting up its own superteam scenario if they can sign Stewart.
From the return of Brittney Griner, to Parker joining the champs, to Stewart's highly anticipated final decision, the 2023 WNBA season—beginning Friday, May 19—promises to be one of the most exciting in the league's history.