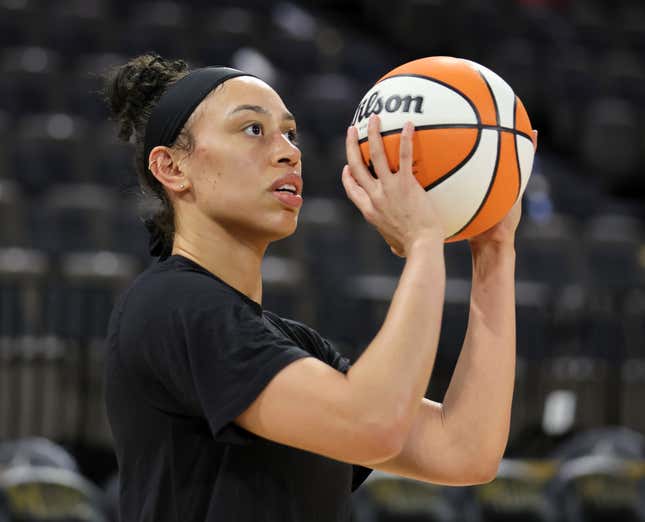 WNBA fans were expecting free agency to be full of crazy surprises and unexpected announcements. However, I don't think anyone was expecting a huge scandal to break out surrounding the trade of one of the league's most dynamic players. On Saturday, the WNBA Champion Las Vegas Aces announced they were trading two-time all-star Dearica Hamby to the Los Angeles Sparks. For LA fans, it was truly exciting news to know we would have the two-time Sixth Woman of the Year on our team. Then later in the day, the celebration was muted by Hamby's accusations that the Aces acted in an "unprofessional and unethical way" by trading her while she's pregnant.

American Ninja Warrior: Season 15 Is Our TV Pick of The Week
In a lengthy, revealing Instagram post, Hamby took the Aces to task for questioning her commitment to the team, as well as how they treated her throughout her pregnancy.
"Being traded is part of the business. Being lied to, bullied, manipulated, and discriminated against is not," Hamby wrote. "I have had my character and work ethic attacked. I was promised things to entice me to sign my contract extension that were not followed through on. I was accused of signing my extension knowingly pregnant. This is false. I was told that I was 'A question mark' and that it was said that I said I would 'Get pregnant again' and there was a concern for my level of commitment to the team. I was told that 'I didn't hold up my end of the bargain' (because 'No one expected me to get pregnant in the next two years')."
Unfortunately, women getting fired, demoted or having their duties reduced due to pregnancy is not new. However, you would expect teams centered around promoting the talent of women to be more understanding of its players' needs. Women athletes get pregnant and return to competition all the time. It's not some career-ending medical condition. If any part of the forward's accusations are true, this is a truly insidious move from Las Vegas. It's no secret that professional sports teams and leagues don't show a ton of loyalty to players. But it's still shocking to see an impactful star allegedly treated this way by a team who spent the last few years acting like she was the missing piece to its championship puzzle.
"Did the team expect me to promise not to get pregnant in exchange for the contract extension? I was asked if I planned my pregnancy. When I responded, 'No,' I was then told that I 'Was not taking precautions to not get pregnant,'" Hamby continued. "I was being traded because 'I wouldn't be ready and we need bodies.' I planned to play this season, and I have expressed my desire to play this season. I have pushed myself throughout my entire pregnancy and have continued to work out (basketball included) on my own and with the team staff—even on days where it was uncomfortable to walk—only to be inaccurately told that 'I was not taking my workouts seriously.' And 'Yeah we just don't see that' (with my return). I remained transparent with everyone within the organization, and yet, my honesty was met with coldness, disrespect and disregard from members of management."
Dearica Hamby has played her entire eight-year career with the Aces. She even noted in her post that she's been there longer than the people treating her so disrespectfully.
"I have only put this organization first since day one before any of them were here. 'You're getting moved regardless and it's best for your career that you move on from the Aces,'" she wrote. "The unprofessional and unethical way I have been treated has been traumatizing. To be treated this way by an organization, BY WOMEN who are mothers, who have claimed to 'Be in these shoes,' who preach family, chemistry, and women's empowerment is disappointing and leaves me sick to my stomach. We fought for provisions that would finally support and protect player parents. This cannot now be used against me."
According to ESPN, the WNBA players union's 2020 collective bargaining agreement states "WNBA players receive their full salary while on maternity leave, as well as a child care stipend." Though it didn't specifically mention Hamby by name, the union released a statement on the situation on Saturday, writing, "A member of our Union has raised serious concerns regarding the conduct of members of Las Vegas Aces' management. We will review this matter and we will seek a comprehensive investigation to ensure that her rights under the collectively bargained provisions of the 2020 CBA, as well as her rights and protections under state and federal law, have not been violated."
This may be an issue between one player and one team, but for a league that usually finds itself on the right side of social issues, this is a bad look. You also cannot have your champions accused of discriminating against a pregnant player when you're gearing up to showcase the biggest season in league history. The good news is that WNBA players always have each other's backs, so Hamby's post was met with likes and support from former teammates and opponents.