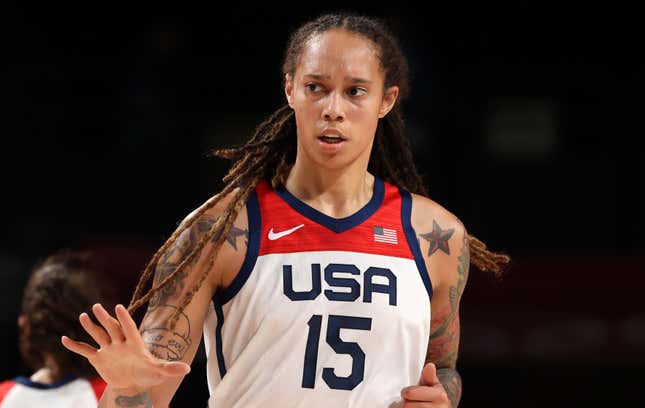 After spending most of 2022 wrongfully detained in Russia, WNBA star Brittney Griner is ready to get back to her regular life–including basketball. Following a prisoner swap that led to her release in December, the Phoenix Mercury center made it clear that her career on the court was far from over. In a December Instagram post, Griner wrote, "I also want to make one thing very clear: I intend to play basketball for the WNBA's Phoenix Mercury this season, and in doing so, I look forward to being able to say 'thank you' to those of you who advocated, wrote, and posted for me in person soon."

Herschel Walker Supporters Are Unfazed By His BS
However, it appears it won't be business as usual when it comes to Griner's travel arrangements. According to ESPN's Ramona Shelburne, charter flights for players has once again become a central conversation for the league "because of the assumption that Phoenix Mercury center Brittney Griner will need to fly privately due to security concerns."
Due to her time spent imprisoned in Russia, it is thought that security concerns will make it impractical for the two-time Olympic gold medalist to travel on commercial flights. Possible options could have the eight-time all-star flying privately by herself, or the Mercury could charter private flights, a choice that has ramifications for the entire league. If one team gets to use private travel, it's not fair to the other teams who are still required to use commercial planes. The issue of fairness came up in 2022, when New York Liberty owner Joe Tsai was fined $500,000 for using charter flights during the second half of the 2021 WNBA season. According to the 2020 collective bargaining agreement, players can book Economy Plus or Comfort seats. Well that sounds super comfortable for a 6-foot-9 professional athlete.
Charter travel has been a controversial topic for the league. In the last few years, multiple teams have been affected by canceled flights and travel delays. Yes, we all have travel nightmare stories, but when your flight gets delayed and you spend the night in the airport, no one is expecting you to still go out and compete against the best basketball players in the world. And despite what some people think, COVID is still an issue. When the league suffered a surge of cases last season, players blamed the outbreak on commercial travel.
Two-time WNBA champion Breanna Stewart, who is the most high-profile free agent of the 2023 offseason, has made charter flights a big point in her meetings and negotiations with prospective teams. On Sunday, the four-time WNBA all-star tweeted, "I would love to be part of a deal that helps subsidize charter travel for the entire WNBA. I would contribute my NIL, posts + production hrs to ensure we all travel in a way that prioritizes player health + safety, which ultimately results in a better product." Her message was met with an emoji of a person raising their hand by several WNBA players including Chiney and Nneka Ogwumike, Kahleah Copper, Napheesa Collier, Natalie Achonwa and Layshia Clarendon.
While it's ridiculous that these players have to make plans to pay for accommodations that should be covered by the teams or league, it seems like that's the only way they can be treated like the professionals they are.
WNBA commissioner Cathy Engelbert previously told ESPN, "If we could get it sponsored or funded in some way…I'm all ears. I've gotten lots of calls over the past year about this since we've been back in our 12 markets. Then when people price it out, you never hear from them again."
The use of charter flights has been an ongoing issue for the WNBA, and it doesn't seem like a solution will happen anytime soon. If cancellations, COVID and teams literally sleeping in the airport didn't fix the problem, I doubt Brittney Griner's heightened security concerns will.