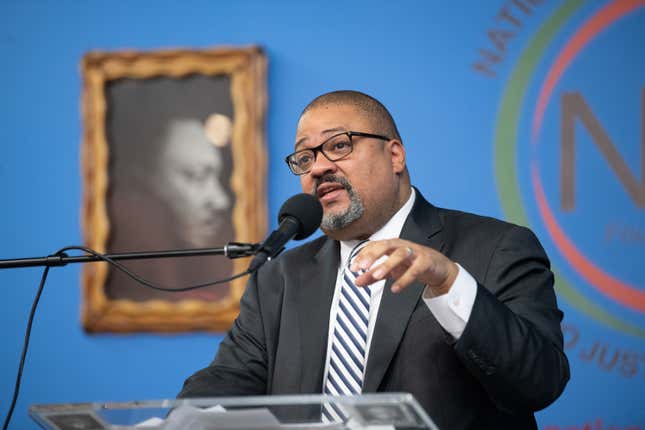 Updated 3/31/2023 at 12:30 p.m. ET  
Former President Donald Trump was indicted on Thursday by a Manhattan grand jury following an investigation by Manhattan District Attorney Alvin Bragg Jr. into whether Trump's alleged payment of hush money to former porn star Stormy Daniels rose to felony-level criminality on the part of the ex-president. Once again, Trump is facing court over allegedly shady dealings, and his chief nemesis is a Black man, only this time that Bragg isn't trying to rent one of Trump's apartments, he's seeking a historic conviction that could mark the first time a former president ends up incarcerated.
Donald Trump Might Actually Face The Music For His Alleged Hush Money Schemes
If it feels like Trump has spent the last 50 years being sued over his business practices and antagonizing Black people, your instinct isn't far off. In 1973, the Justice Department sued Trump for discriminating against Black prospective tenants in his then rental real estate portfolio. Trump settled, and to this day claims he did nothing wrong. That lawsuit foreshadowed two themes in Trump's life that this week could also begin his downfall: court battles over his business practices and tussles with Black folks who refused to be cowed by his racist public policy and rhetoric.

Since then, Trump been accused of jerking contractors who worked on his construction sites out of their money. The Trump Organization reorganized under federal bankruptcy protection three times. The company was convicted last year of tax fraud. He bought an infamous full-page New York Times ad asking for the death penalty (which didn't exist in New York at the time) for five Black teenagers who were ultimately exonerated for the rape of a white woman who was jogging in Central Park. His presidential campaign and four years in the White House centered on anti-Black and anti-immigrant demagoguery.
So you're not wrong if you also think it's fitting that since leaving office, the biggest threats to his fortune and his freedom are investigations led by three Black prosecutors: Bragg, Fulton County District Attorney Fani Willis, whose office could still indict Trump over his attempts to undo Georgia's 2020 election results, and New York Attorney General Letitia James, who is suing the Trump Organization in civil court over the kind of accounting practices at the company's criminal conviction.
Trump has tried hard to delay or derail all those investigations. He challenged subpoenas. He filed an unsuccessful countersuit against James. He made veiled threats against Willis. He was seen sticking a banana in the tailpipe of Bragg's chauffeured SUV (ok, that didn't happen but you can't stop seeing the visual, can you?). This month, his legal team filed paperwork to try to get Willis thrown off the case and to seal her grand jury's report, which recommends criminal charges against multiple, unnamed people. Wanna guess who one of those people just might be? So far, none of it has worked.

Still, that it's Bragg whose investigation reached the finish line first is ironic. Bragg has been at the center of several public controversies. Activists took him to task last year for dragging out the prosecution of Tracy McCarter, a domestic violence survivor, whose prosecution he had previously called unjust. (If you'd like to read more about the case, check out our four-part series.)
Bragg also faced backlash after one of the former lead prosecutors from Bragg's team wrote a scathing resignation letter that accused his ex-boss of ignoring overwhelming evidence that Trump had committed multiple felonies. A year ago this week, I questioned whether Bragg was pulling punches on Trump. Back then, it looked like if any of the investigations against Trump would implode, it would be Bragg's.
I've interviewed Bragg several times since and asked him directly about the Trump investigation. Every time, he was measured and cautious with his words, demure about discussing an ongoing grand jury proceeding. But never once did he close the door on the idea that his office would prosecute Trump if evidence led the grand jury to indict. And as I noted in last year's piece, it's pretty easy for New York prosecutors to get grand juries to bring charges if they really want to.

Of course, an indictment is a long, long way from a conviction and the trial of a former president–especially one that would play out in a New York courtroom–would be a spectacle that would do more pay-per-view buys than a Floyd Mayweather fight. But if boxing is the appropriate metaphor for Trump's current legal woes, maybe with all his antagonizing, he finally picked the wrong opponent, somebody he couldn't push around the ring too easily. Somebody willing to punch back, or even go on the offensive.
Maybe this time, he finally loses.


Jessica Washington contributed to this story