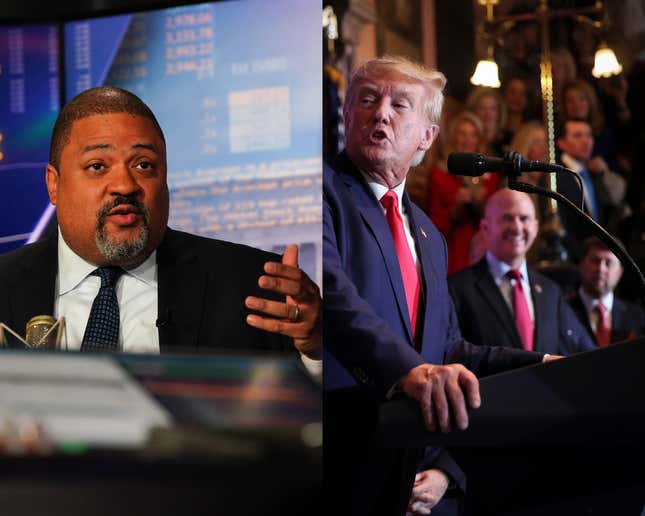 Updated 2/05/2023 at 8:00 a.m. ET  
There was a time when Former-President Donald Trump's name held some real social cachet in New York City. Look back at episodes of the Real Housewives of New York, and you'll hear "society people" actually excited to announce their connection with him.
Donald Trump Might Actually Face The Music For His Alleged Hush Money Schemes
His reputation here has crashed and burned, thanks in no small part to the white supremacists trying to lead a coup in his name thing. But will the city that made Trump who he is, be the site of his final takedown?
On Monday, the Manhattan District Attorney's Office, led by DA Alvin Bragg, began presenting evidence against Trump to a grand jury. According to the New York Times, the case will focus on hush money paid to Stormy Daniels during his 2016 campaign.
Michael Cohen, Trump's shady former attorney, has also gotten into the mix. Not only did he meet with prosecutors last month, he told CNN that he handed his cell phone to Bragg's office. Cohen told CNN's Don Lemon that the DA wanted recordings on his phone of Stormy Daniels's former attorney, Keith Davidson. (He was her lawyer before the Michael Avenatti saga).
The case could potentially lead to criminal charges against Trump, but it's far from a done deal. According to the New York Times, to convict Trump, prosecutors would have to prove that he falsified documents in order to hide the payouts during the election.
But the fact that Bragg has decided to push forward with the case against Trump is a big deal.
Bragg faced a ton of backlash for suspending his predecessor's investigation into Trump last year. Two of his senior prosecutors quit in protest and called him out in the press.
Last summer, Bragg returned to the investigation. But his decision to call a grand jury marks a clear jump from the investigation stage to the potential criminal charges stage.
Even if this case were to fall through, Trump world has no shortage of pending cases to deal with this year.
Fulton County, Georgia District Attorney Fani Willis told reporters that her decision to charge Trump with a criminal offense for his role in election interference was "imminent."
We also can't forget that the January 6th committee recommended criminal charges against Donald Trump for his role in the insurrection.
So even if Trump survives his run-in with the Manhattan District Attorney, he's certainly not in the clear.