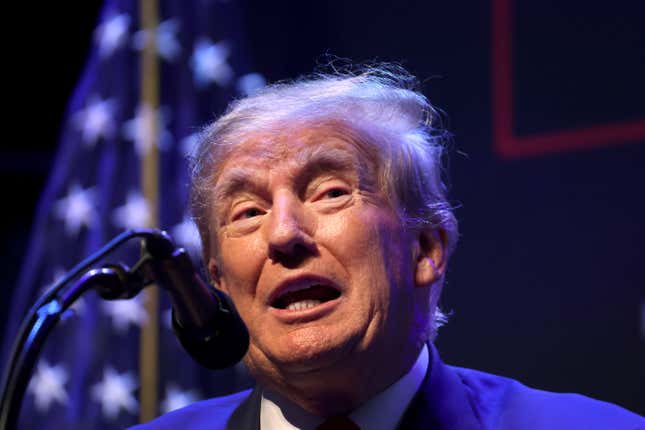 A Manhattan grand jury has reportedly indicted former President Donald Trump — making him the first president to ever be charged with a crime.

Donald Trump Might Actually Face The Music For His Alleged Hush Money Schemes
Although we don't know the specific charges, we know Trump was being investigated by the Manhattan District Attorney's office for allegedly directing and covering-up hush money payments to Stormy Daniels. When someone is facing as many charges as Trump, it's not exactly surprising when they get indicted. But this is still a massive tipping point in the Trump legal saga.
The decision to indict Trump was an early victory for Manhattan District Attorney Alvin Bragg, who began presenting evidence to the grand jury in late January. (Bragg had previously come under fire for suspending his office's investigation into Trump upon entering office before picking it back up last summer.) Trump is currently running for President, but he could face years in prison if convicted.
Still, early win aside, getting an indictment is one thing. Actually, getting a conviction is an entirely different beast. Here are the five things you need to know about today's indictment:
Will Donald Trump Actually Get Convicted?
The actual charges have not been confirmed as of Thursday evening, but let's backpedal a bit to explain what the charges are likely focused on because it's pretty complicated.
Weeks before the 2016 election, Daniels, a prominent adult film actress, was trying to sell a story of her alleged affair with Trump to the National Enquirer. However, instead of buying her story, the tabloid's publisher brokered a deal between Daniels' attorney and Trump's then-attorney, Michael Cohen. In exchange for the story, Cohen paid him $130,000 which he says Trump later reimbursed once he was in the White House.
Cohen got caught. And in 2018, he pleaded guilty to federal campaign finance violations related to the hush money payment, which prosecutors said counted as an improper donation because it benefited the Trump campaign.
Ok, so why would this mean felony charges for Trump?
According to Cohen, Trump directed him to make those payments (which is where the campaign finance charge could come in for Trump). Moreover, prosecutors have alleged that Trump falsified business records to conceal his payments to Cohen by pretending they were legal fees.
On their own, falsifying business records and violating campaign finance law aren't felonies (they're misdemeanor crimes). But prosecutors could argue that falsifying the business records with the "intent" to conceal the campaign finance violation is a felony.
It's completely untested legal ground. In New York, no prosecutor has ever tried to combine these charges. Prosecutors must also prove both misdemeanor crimes to make the felony charges stick.
Paul Henderson, a former San Francisco Prosecutor under Vice President Kamala Harris, says proving that case could be "an uphill battle."
"You have to stack all of these theories on top of each other in order to get a conviction," explains Henderson. "That doesn't mean it's not possible. It just means that it's somewhat complicated."
Henderson says getting a jury to buy into a new and complicated legal theory won't be easy. And the risks of not getting a conviction are massive. This case is the first criminal indictment lodged against Trump, but it's hardly the only one coming down the pipeline.
"I would imagine, given what [Trump] stated about the case so far, that he will use the indictment and this case as grounds to qualify all of the remaining legal issues he's facing," says Henderson, "as representative of the kid of charges that he's being accused of because this is one of the more complicated and shaky... charges against him."
Why Was Trump Saying He Was Getting Arrested?
You may be wondering why Trump hasn't been arrested even though he ranted about his impending arrest for weeks. Keith Reed, writing for The Root, suggests it could be political theater: 
So why does Trump keep squawking about the prospect of being arrested as if that's a real thing? And why do so many in the media keep using the word? The answer is just as dangerous as his rhetoric in the weeks before the Jan. 6 Capitol riots, and New Yorkers in particular should be paying really close attention.
Trump is playing us all again, in the same way he has been since he first floated the idea of running for the presidency in the middle of Barack Obama's second term. He's using the formula that's worked for him his entire short, awful political career: say a ridiculous thing ("Obama's a secret Muslim," "I'll get Mexico to pay for a border wall," "The election was stolen!"), know that the press can't ignore that thing either because it has news value or because it's just salacious, and then watch that thing take on a life of its own.
How Trump and His Allies Made The Indictment About Race
Trump's other strategy with this indictment has been to make this case about race, says Henderson. Trump claimed that Bragg, the first Black Manhattan District Attorney, was "a racist in reverse" on the conservative social media site Truth Social. "Bragg is a (Soros) Racist in Reverse, who is taking his orders from D.C," wrote Trump.
"Trump wants to have a racial conversation," says Henderson. "He's calling a black man a racist for having the nerve to charge him. And to me, that raises flags of redefining the power structure in false ways to a broad audience to paint a narrative that Trump is the victim."
There's a lot to unpack here with Trump's statements. But, as Howard History Professor Dr. Elizabeth Clark-Lewis points out, there's also a ton of hypocrisy in Trump and his fan base's outrage.
Trump had no problem publicly calling for the death penalty for the Central Park Five, a group of innocent Black and Latino boys who prosecutors wrongly imprisoned for the rape of a woman in Central Park, says Clark-Lewis, but now he wants to cry foul.
"There's a dual system at play," says Clark-Lewis. Trump and his supporters feel comfortable pushing for draconian prison sentences and even the death penalty for people, even before they've had a trial. "Suddenly, when it's this president, there's this very different view," she says.
How Will Trump Protestors Be Treated Compared to BLM Protestors?
Police have previously placed barricades around the Manhattan Criminal Courthouse anticipating pro-Trump protests. However, Clark-Lewis says police won't treat them like Black Lives Matter protestors in 2020.
"I would think that the January uprisings reflect the facts that there will never be the same kind of actions taken against the supporters of Donald Trump," says Clark-Lewis. "I don't see how anyone could expect the same level of vitriol or violence turned against the supporters of Donald Trump as opposed to particularly African-American protestors."
How Big of a Deal Is This Indictment?
No matter how Trump tries to spin this story in the upcoming days, this indictment is a big deal, says Clark-Lewis.
"It's unprecedented," she says. "No other President has ever been charged with a crime."