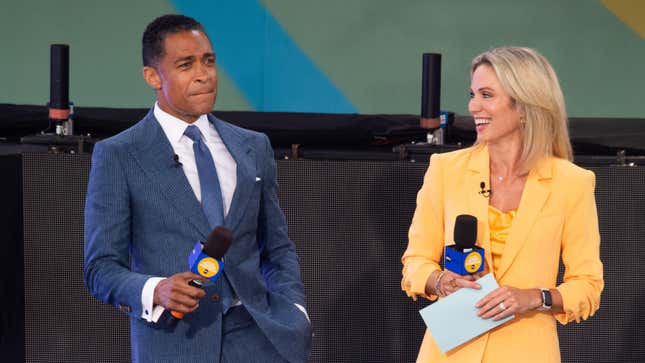 In a reported outcome that The Root effortlessly predicted, it looks like Amy Robach left ABC with quite the severance package. According to Page Six, Robach and her boo TJ Holmes both received decent money when they were let go by ABC News after an alleged affair became public fodder.

Netflix's Wednesday Star, Joy Sunday, Plays That's So Random
However, the gossip site says that according to insiders, Robach received the more lucrative agreement. Though the exact details haven't been specified, a source stated: "Amy's been at ABC a lot longer and has a much bigger contract [than T.J.]."
Robach became a part of the network in 2012. However, Holmes didn't join ABC until 2014. In addition to the former cohosting "GMA3" with Holmes, she also made appearances on "20/20." An insider told Page Six that she "worked really hard to get" both opportunities.
A second source told the site that it's probable that the pair received what they would have been owed for the remainder of their contracts—and maybe a little bit more. They remarked: "It's possible they could have gotten paid slightly more to sign an NDA — and to keep the peace."
A few people told Page Six, in regards to the relationship: "Was it worth it?" Besides publicly humiliating themselves and the network that employed them, they also embarrassed their spouses as well as their children. Despite losing his job, Holmes seems to think it was a good decision and has continued the relationship.
According to another report, he was seen out buying jewelry for Robach to celebrate her 50th birthday which was February 6th. The Daily Mail, which broke news of the couple's affair last year, published a piece stating that Holmes bought a $650 18k gold Unity Cable Ring from Tiffany & Co., for his girl's big day.