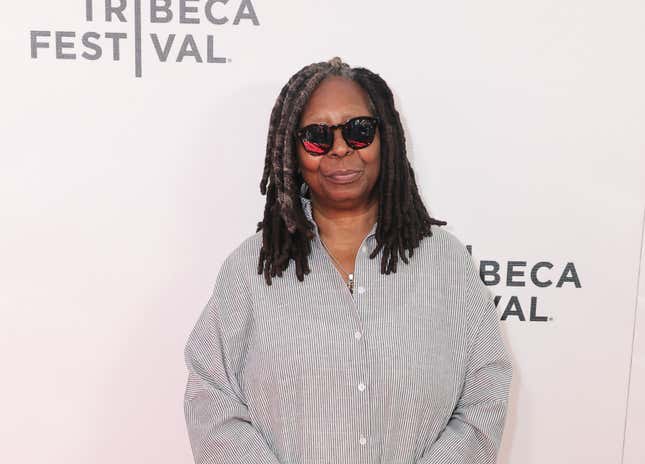 When talk shows return from their summer hiatus, they typically take a few minutes to touch on events that happened while they were airing reruns. To that end, you already know Whoopi Goldberg wasn't about to come back to The View without addressing the biggest Black story of the summer: the Montgomery Riverboat Brawl. Not only did the legendary actress/comedian offer her thoughts on the huge fight, she wore a folding chair necklace as a shoutout to Reggie Ray, the man seen using a white chair to defend himself and others in the video.

Is That Black Enough for You?!? Is Our TV Pick This Week
"I have to lead this off by saying we do not condone violence on this show," Goldberg said. "But there was a story that happened last month in Montgomery, Ala. where a riverboat captain had 227 passengers, was trying to dock his boat in the spot he's supposed to be in, so the co-captain, who happened to be Black, went to confront this pontoon boat that was in the way. So a fight ensued and something happened that we have not seen."
"Black people came out of nowhere," she continued. "We dropped out of the sky. It was crazy."
This is one of the best wrap up of events that you will find, because Whoopi laid it out perfectly. Once the video of the fight went viral, Black people took several victory laps over the outcome of the fight and the lessons that were hopefully learned. As Goldberg said, "The memes were off the hook. I am wearing a folding chair."
The View hosts did note how things could have been so much worse, but that there was also a simple way to avoid this whole mess.
"What we all take away from this is, if we don't want to be hit, we do not hit other people. When somebody is doing their job, let them do their job," the EGOT winner said. "We're making light of this, but the truth of the matter is it didn't go south because there were no guns. So let's not do that again."
Now, excuse me while I go online and find that necklace.