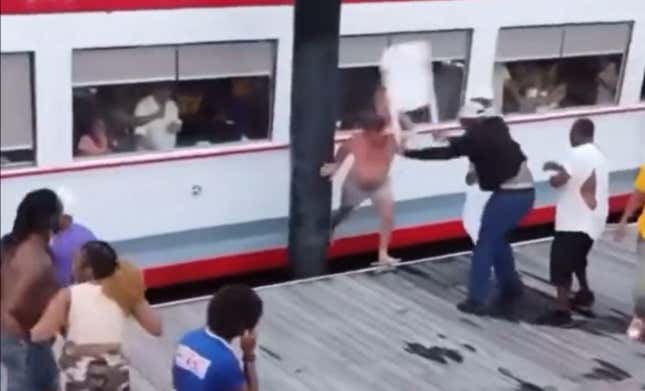 The Montgomery Riverboat Brawl gave us many heroes. One that caught the attention of Black people everywhere was "folding chair man." That may be his fight name, but out here in the real world, he's Reggie Gray, a 42-year-old man, who the police would like to have some words with. In a press conference on Tuesday, Montgomery Police Chief Darryl J. Albert revealed Gray's identity and asked him to "contact local law enforcement," as "there's more interviews to conduct with him."
Elon Musk Has Opened the Floodgates For Racists On Twitter
Right now, that's pretty much all we know about "folding chair man," but I can tell you one thing for certain, Reggie is a wrestling fan. Only a wrestling fan would bring a folding chair to a brawl. As a lifelong wrestling fan myself, I know that the babyface only grabs a chair when the heels have been getting away with shit for so long, it's time to defend themselves however they can. Bringing a chair into a brawl is a textbook way to ratchet the feud up a level. Just as it did with Aquamayne a.k.a. Scuba Gooding Jr., a.k.a. Swimzel Washington a.k.a. Black Aquaman, Black Twitter has Reggie's back.
One user who seems to be thinking of Gray's best interests, urged Black people everywhere to forget what they saw, writing, "Reggie Gray IS Chair Man, but I don't remember there being a chair. I agree, WHAT chair? I didn't see a chair, did you?"
Another person had a similar sentiment, posting, "What chair? I didn't see a chair! Y'all better leave Uncle Reggie alone!"
In all seriousness, the police are clearly trying to make an example of all parties involved, with Albert saying, "Anyone involved that has culpability for violating the law, is subject to restrictions in terms of the law." This means Gray should definitely seek legal counsel before he speaks to the police about this situation.
According to CNN, arrest warrants have been issued for three white men "connected to the private boat." Richard Roberts, who is 48-years-old, is being charged with two counts of third-degree assault, while Allen Todd, 23, and Zachary Shipman, 25, have been charged with one count of third-degree assault.
This brawl was so public, it's hard to imagine anyone involved getting out of this without being charged with something.