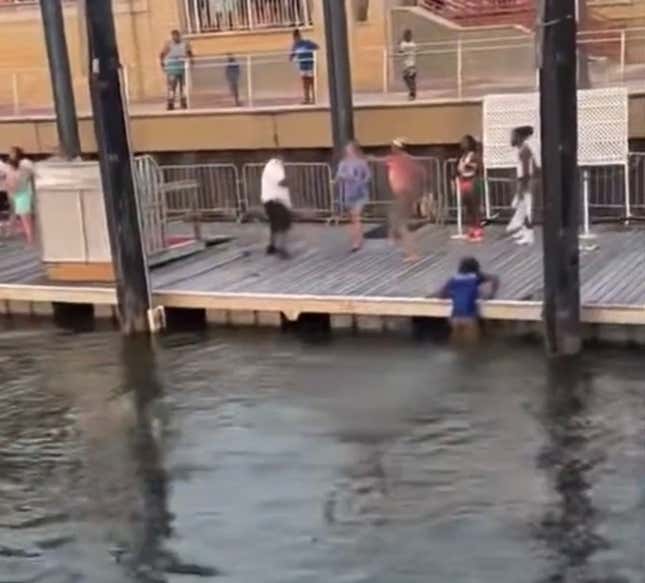 On Sunday, social media was set ablaze as clips from the Montgomery riverboat brawl spread.

Morgan Freeman Presents The 761st Tank Battalion: The Original Black Panthers: Our TV Pick
The initial post now has over 85 million views, as some people admitted to watching them over 10 times to watch every part of the fights. However, there is one person in the video who stood out, the swimming man who people have dubbed Black Aquaman. Interesting enough, he's not a man. Atleast not yet.
We now know who he is: Aaren, a 16-year-old teen, happened to be a colleague of the Black bodyguard who was attacked by white boaters. His last name has been kept anonymous because of his age. In a statement from his family's publicist Makina Lashea the family expresses their gratitude for supporting Aaren:
"In the face of adversity, Aaren selflessly came to the rescue of a fellow colleague, showcasing courage beyond his years. We are immensely proud of his actions and the values he exemplifies, standing as an inspiration to us all."
The statement was full of pride for him as he was doing what he "was taught to do,"and people agree as he has been called a hero. Lately in movies, we've seen Black people breaking the stereotypes of not being able to swim from the Wakandans taking to the ocean for battle in Black Panther 2, Zoe Saldana in Avatar, and Halle Bailey as a mermaid in The Little Mermaid. Now, we have a real Black hero showing that our support for our people isn't limited to land.
Since social media users did not know the swimmer's name at the time that the fight videos went viral, he became a sort of Spiderman or Superman, honored with a series of names nicknames. Of course, Black X (formerly Black Twitter) got creative! Take a laugh with us as we see the names that this kid will be carrying for the rest of his life.
How about Ja'Michael Phelps?
Or maybe Aquamayne?
This list of names he's been crowned with is hilarious!