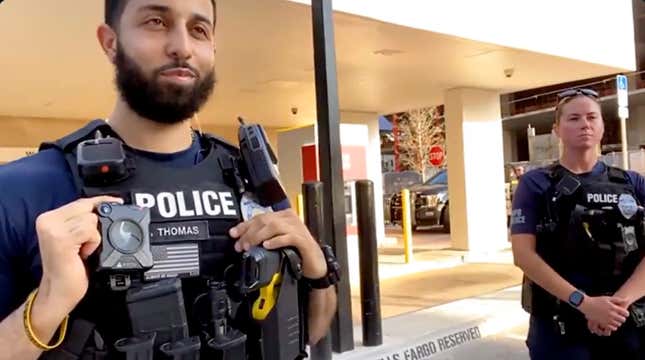 A video is circulating on Twitter showing a racist man spouting racial slurs at a West Palm Beach police officer as he tries not to laugh. According to WSVN News, the police responded to calls of a truckload of men distributing antisemitic flyers around the area.

Here's How Medicaid Expansion Can Play A Role In Black Maternal Healthcare
Investigators say the group of West Palm Beach officers approached a group of men asking for their identification. NBC News affiliate WPTV says the group was accused of riding around in a U-Haul truck, passing around over 500 small antisemitic flyers around the beaches and neighborhoods of Palm Beach County. The messages were sealed in plastic bags with rocks inside to weigh them down, which is a common practice among the hate groups in the US that still praise the corpses of the Ku Klux Klan.
Last week, the officers approached the group and gave a lousy littering citation. However, the video of the incident went viral after one of the suspects, identified by Twitter as white supremacist Jon Minadeo, was repeatedly heard calling one officer the N-word after he just asked him a question.
"This nigger is getting in my face. See this niggerr? He's intimidated... fucking aggressive nigger," said Minadeo.
Watch the whole clip to your own discretion:
In another clip, the officer, whose badge reads D. Thomas., stands there with a smirk on his face as Minadeo continues to throw the racial slur at him repeatedly, taunting him to have a reaction. Instead of giving him the satisfaction, Officer Thomas stood there with a smirk, trying not to laugh at the pathetic attempt to spark a controversial moment.
Understandably, not everyone is unbothered by that slur. We've seen countless videos of people flipping over chairs and throwing punches as soon as the word leave the lips of a racist. However, my Black Literature teacher gave me a different outlook on it. Professor James said the n-word, by definition, isn't a Black person but a construct of nasty stereotypes about a Black person, a figment of imagination that doesn't actually exist. Therefore, if someone hurled the slur at her, she'd look at them like, "I know you not talkin' about me."
Officer Thomas must've held his composure under the same impression.