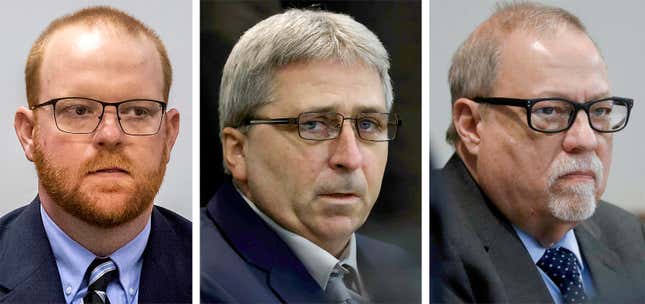 The three white men convicted in the lynching of Ahmaud Arbery in 2020 have filed appeals to have their federal hate crime charge overturned, per The Associated Press. The three claim their actions in shooting and killing Arbery were not racially motivated, despite their extensive digital footprint of racism.

This Book Aims To Arm Kids With The Tools To Fight Racism
Greg McMichael and his son, Travis McMichael, targeted Arbery while he was jogging through the neighborhood, assuming he was a burglar. They stopped their vehicle and performed what they argued was a "citizen's arrest" and fatally shot him in the middle of the street. William Bryan joined the chase in his vehicle and recorded the incident on his phone. If you let his defense attorney tell it, there's no way this incident was racist.
"Every crime committed against an African American by a man who has used racist language in the past is not a hate crime," defense attorney Pete Theodocion.
First of all, Pete, the use of racial slurs implies that a person believes the hateful connotations behind what they're saying. The defendants' previous remarks weren't some measly microaggressions. Reports say during the trial Bryan's text messages were submitted as evidence featuring slurs about a Black man his daughter was dating. The McMichaels called Black people "nothing but trouble" on social media and threatened to kill a Black man seen pranking a white man in a Facebook video.
With these hateful preconceived notions in mind about Black men preying on white women or being dangerous troublemakers, Arbery fit the description for what they believed was a criminal: a Black man minding his business.
Read more about the appeal from The Hill:
On March 3, the men all filed briefs in federal appeals stating their motives for the chase and subsequent shooting were because they thought Arbery was a criminal, not because he was Black.

The elder McMichael claimed he'd seen Arbery on security camera videos breaking into a neighbor's home. Though Bryan hadn't seen the video, his lawyer claimed that he, too, assumed Arbery to be a criminal based on the McMichaels chase.

"Arbery never called out for help or gave any signs that he was the victim of an unprovoked attack," Theodocion wrote in Bryan's appeal.

However, Travis McMichael's appeal does not argue against racial motives. Instead, his attorney has argued that prosecutors failed to prove that Arbery was murdered on public streets, as the mens' indictments stated.
Hate crimes these days are often evaluated by whether the person said a racial slur during the commission of the crime. In some cases, they don't have to. Black people know when they come across a racist.