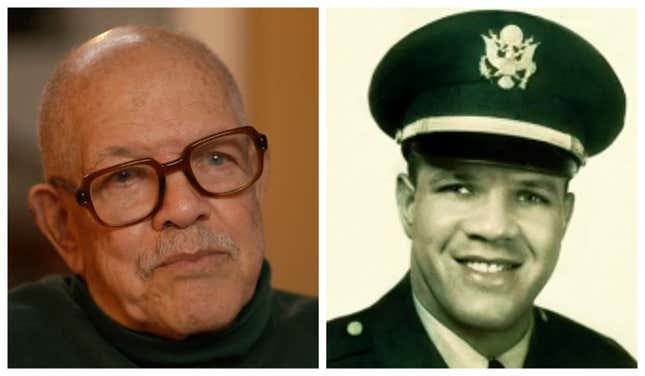 Monday, President Joe Biden paid a personal call to an army veteran who made history back in the 1960s: Col. Paris Davis (retired). According to CBS News, Davis is to finally receive a Medal of Honor - an honor 60 years delayed due to racist reluctance to acknowledge his accomplishments.

Davis went from a running back on the football field to one of the first Black officers to lead a Special Forces team in Vietnam, per the Army Times. He proved his courage June 18, 1965 when a raid on the North Vietnamese Army camp resulted in a counterattack leaving every American soldier critically injured. Davis - with one hand damaged by an enemy grenade and an order to leave his team - went back to rescue each one of them.
Davis' success led to a recommendation for a Medal of Honor but his file "disappeared" and the military review found no record of him, CBS' report says. This oddity caused a group of volunteers to look through the archives a piece the paperwork together.
Davis' supporters believe the racial tensions at the time is what stalled the process.
Read more about Davis from CBS News:
"I know race was a factor," Davis told CBS — a factor he says he experienced during his 23 years in the Army. Davis said he recalled telling troops, "you can call me Capt. Davis ... but you can't call me a n*****." But "it did happen," Davis said.

Only 8% of Medal of Honor recipients for Vietnam are Black.

An expedited review of Davis' nomination was due in 2021 for Davis who is now nearing his 86th birthday and was hospitalized multiple times in 2022 for injuries related to his Vietnam service. CBS News' reporting revealed bureaucratic delays and unnecessary stumbling blocks that further delayed the award for Davis.

The packet was previously signed by then-Secretary of the Army Mark Esper, and more recently by the current secretary of the Army, Christine Wormuth. In late December, Defense Secretary Lloyd Austin signed off, with the paperwork sent to the White House for final approval by Mr. Biden.
While the efforts for the medal paused, Davis rose to colonel ranking and received a Silver Star Medal for his actions that fateful day - an honor he and one other Black soldier received as they waited for their higher honor, per Army Times. Now, President Biden will bring the long years of anticipation to an end.
"The call today from President Biden prompted a wave of memories of the men and women I served with in Vietnam – from the members of 5th Special Forces Group and other U.S. military units to the doctors and nurses who cared for our wounded. I am so very grateful for my family and friends within the military and elsewhere who kept alive the story of A-team, A-321 at Camp Bong Son," said Davis and his family in a statement via CBS.