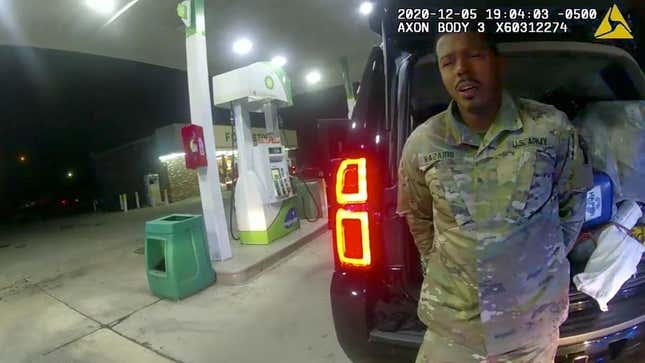 Updated as of 1/18/2023 at 3:30 p.m. ET
Second Lt. Caron Nazario was awarded a disgraceful sum of just $3,600 from his million-dollar lawsuit against the two Virginia police officers who pepper-sprayed him during a traffic stop, per CNN. The jury found Nazario could not prove his allegations aligned with the amount he was seeking in compensatory damages.
Tuesday, a jury ordered Windsor officer Daniel Crocker to pay Nazario $1,000 for the illegal search of his vehicle. Former officer Joe Gutierrez was ordered to pay $2,685 in damages for assaulting Nazario when he pepper-sprayed. Nazario alleged in his suit he was falsely imprisoned, unreasonably assaulted and battered as well as threatened to be killed.
Nazario's attorney Jonathan Arthur told CBS6 reporters the jury basically concluded the use of force during the traffic stop was not excessive. Attorneys for the officers argued the same, insisting Nazario refused to comply with their demands to get out of the vehicle.
"Obey the law when a policeman falls in behind you and puts his blue lights on. Pull over then cooperate. Don't refuse to get out of the car if asked to get out of the car," said attorney Richard Matthews.
Nazario's suit said he was afraid to exit his car because the officers approached with weapons drawn. We've seen enough Black people both comply and not comply with officers' demands and still end up dead on the concrete. It's not unreasonable to fear for your life when those blue lights come on.
Previous reporting...
According to the video footage of the incident, the two officers approached Nazario at a gas station with their guns drawn. The officers demanded he step out of the vehicle but Nazario refused, asking why he was being stopped. "I'm honestly afraid to get out," he said. "You should be," Gutierrez responded then proceeded to pepper spray him through the open window.

A federal judge found the officers had probable cause to stop Nazario for an improperly displayed license plate and charge him with obstruction of justice. However, another federal judge contended Nazario's lawsuit against them could move forward, but with limitations.
More from NPR:
"The officers involved not only assaulted Mr. Nazario, but pointed their weapons directly at him and, at some point during the encounter, threatened to kill him," the suit alleges. "Mr. Nazario recalls that he thought he was going to die that evening."

U.S. District Judge Roderick C. Young also narrowed the scope of Nazario's lawsuit. In August, Young ruled that federal immunity laws shield Crocker and Gutierrez from Nazario's claims that they violated his constitutional protections against excessive force and unreasonable seizure, as well as Nazario's right to free speech by threatening him with arrest if he complained about their behavior.
Virginia officers have a reputation of pulling people over for misdemeanors as a way to conduct a criminal investigation into something unrelated, according to WKTR. Take for example these two cops pulling over Nazario for a presumed misdemeanor (the tag display) but then conducting to search his vehicle.

According to Virginia's updated traffic law from 2021, officers are no longer allowed to use a minor traffic offense as reason to pull someone over. If they do and find evidence of any other crime, that cannot be admissible in court. The officers did find something in Nazario's car: a licensed firearm.
In whatever state you live in, remember your rights folks.