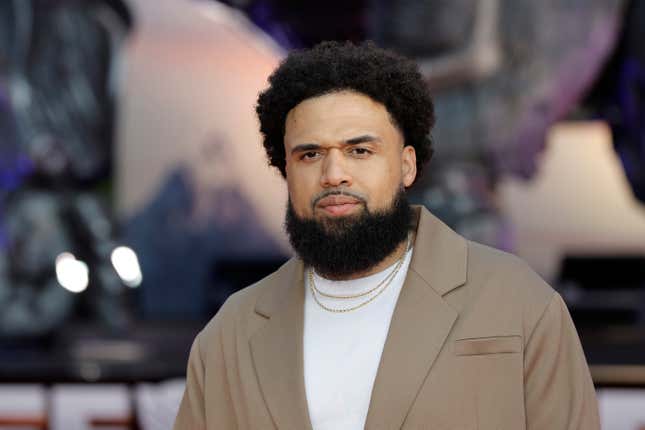 Having previously directed Creed II, Steven Caple Jr. is no stranger to big franchises. However, nothing can quite compare to the spectacle of a Transformers movie. Rise of the Beasts may be the seventh film in the franchise, but that didn't stop the filmmaker from making sure this felt like his Transformers movie. Caple Jr. spoke with The Root about making the most diverse film in the series and returning to the '90s.

Quantum Leap & Ghostbusters' Ernie Hudson Plays That's So Random
Transformers: Rise of the Beasts takes place in the '90s and introduces the Maximals, animal-based robots, to the franchise. Helming a project like this isn't an opportunity a lot of directors of color get, and that is not lost on Caple Jr.
"It's a little surreal whenever I get the time to step back and think about it. It definitely comes with its challenges. Being a seventh film, you're like, 'Alright, what can we do new? How can we freshen things up?' But it is exciting," Caple Jr. told The Root. "It is cool to be part of a legacy that's been around for so long. Now to have the opportunity to make my own imprint, in terms of the lineage and mythology of Transformers,and announce myself as someone who's here."
The film stars Swarm's Dominique Fishback and Anthony Ramos (In the Heights) as the humans who help the Transformers defeat their enemies and save Earth…again. The director noted that it was a very intentional choice to have the movie "reflect the world" and feature a more diverse cast. Even the Transformers feature Oscar-winner Michelle Yeoh and Pose star Michaela Jaé Rodriguez among their voices.
"That's every project that I step into. But specifically this one, on many layers, dealing with Transformers and having the opportunity to have a cast that reflects the world and how I look and how my family looks," he said. "I feel like this is a crucial time for us to use these platforms, and be in these kinds of stories, with this much scope, but yet still keep true to ourselves and our culture, which is huge."
If you're a kid from the '90s, you're excited any time the decade is highlighted. Caple Jr. wanted to make sure that the era was shown its proper love, using everything from Fishback's wardrobe, to posters in the background of scenes to celebrate the period. It's essentially a love letter to Black culture in the '90s.
"That era was a specific time for hip-hop, wardrobe and the whole nine. It was a shift in music. I created a huge playlist for everybody to see what kind of wavelength I was on," he said. "I started sending out movies and references. Everything from Living Single to Martin, to Juice, which you also see in the film as well. That was part of my childhood growing up. If I can open up this sort of time capsule and show you a period in the '90s. It was everything that I love and grew up watching. We paid attention to all these small details that I hope people can appreciate but was very specific to that era and time."
Transformers: Rise of the Beasts is now playing in theaters.