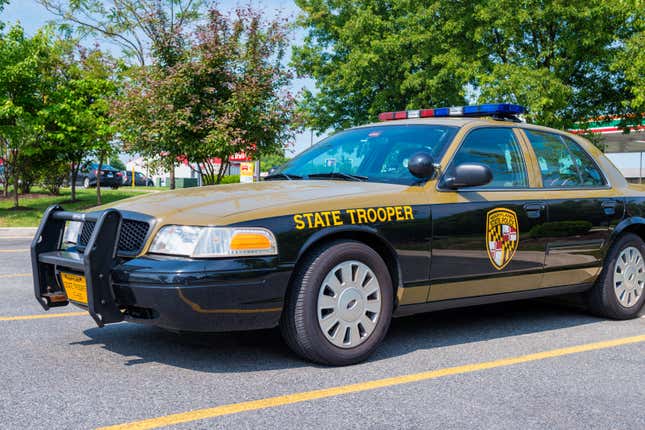 Don't get it twisted. The Antioch police aren't the only ones accused of exchanging disturbing messages. It wasn't even a week after George Floyd was killed that a Maryland State Police official sent out a disgusting photoshopped image of Floyd on the ground.

The 2020 incident resurfaced as the official retired from the department weeks ago.
Cpl. Jason Oros sent an image of Floyd on the ground but instead of Derek Chauvin kneeling on his neck, it was a naked Black man with his penis on Floyd's neck. "Too soon?" he texted with the shrugging emoji, according to The Baltimore Sun. The picture was sent to the task force he supervised. Among the responses to the image were laughs and OMG's. Though, after the department caught wind of it, Oros was placed under investigation. Three members of the task force told investigators the image was offensive and that they no longer felt comfortable working with him. Four days after getting exposed, Oros was stripped of his police powers and his cellphone was taken for sweeping.
The department said he was charged with harassment, conduct unbecoming of an officer and misuse of a work phone. The three-year investigation came to a close last month when Oros retired to avoid getting fired but he still left with full benefits. He ain't home-free yet, though.
Two employees who received that nasty picture filed a lawsuit against him.
Read more from The Baltimore Sun:
Critics say it raises questions about objectivity and fairness at an agency already under a U.S. Department of Justice review around its treatment of employees of color. And there's an ongoing lawsuit from two officers who received the meme who cite it as evidence of racial discrimination and a hostile work environment.

Michal Shinnar, one of the attorneys representing state police plaintiffs in a different racial discrimination lawsuit, called the meme degrading and offensive, and "particularly egregious" considering the manner of Floyd's murder.

Shinnar said Oros' case differed from how the agency typically handles disciplinary matters for her clients. For example, Oros was given the opportunity to retire and permitted to work during his suspension in a "premium" job placement in the Licensing Division, both of which Shinnar said would be uncommon for nonwhite troopers.
As of now, Oros is prohibited from receiving retired police identification or badge. His certification to be a police officer is "null and void," according to the department's superintendent via The Baltimore Sun.