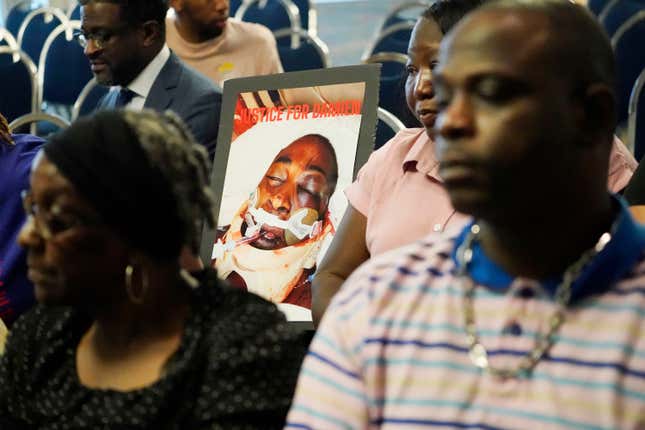 Oh Happy Day! Six ex-cops from Mississippi have entered guilty pleas to several criminal charges in connected to the brutal torture and sexual assault alleged by two Black men. It looks like the "Goon Squad" could be locked up for quite some time.

Small Town Horror Story: The Police Torture Of Two Innocent Black Men
Former Rankin County sheriff's deputies Brett McAlpin, Hunter Elward, Christian Dedmon, Jeffrey Middleton and Daniel Opdyke and Richland cop Joshua Hartfield were accused of subjecting two roommates to 90 minutes of violent trauma. Michael Corey Jenkins and Eddie Terrell Parker said in a lawsuit they were beaten, tased, waterboarded and assaulted with a sex toy the night of January 24. Jenkins was also shot in the mouth by one of the officers resulting in a lacerated tongue and broken jaw.
According to The Associated Press, the two men being ambushed was the result of a white neighbor who alleged the two were living with a white woman. That woman was Kristi Walley, a childhood friend of Parker who was acting as her caretaker, the report says. It's unclear how this complaint warranted the amount of abuse the two men recalled.
However, the officers didn't call themselves the "Goon Squad" for nothing. Prosecutors say their nickname was inspired by their schemes of covering up excessive force incidents.
Read more from CNN:
Former Rankin County Sheriff's deputies Christian Dedmon, Hunter Elward, Brett McAlpin, Jeffrey Middleton and Daniel Opdyke and ex-Richland Police officer Joshua Hartfield, have each been charged with conspiracy to commit obstruction of justice, according to a news release from the Mississippi Attorney General's Office.

Additionally, Dedmon is charged with home invasion and Elward is charged with home invasion and aggravated assault, the release says. McAlpin, Middleton, Opdyke and Hartfield each face an additional charge of first-degree obstruction of justice.
The plea deals for each ex-cop include prison sentences anywhere between five and 30 years. The group also faces federal sentences which they will serve simultaneously when sentenced come November, per AP News.
"The defendants in this case wanted to send a message to the victims that they didn't belong in Rankin County, but we have a message of our own: Abusive law enforcement officers will not be tolerated in any of our communities, and we will pursue justice and accountability whenever, and wherever, police misconduct rears its ugly head," said Kristen Clarke, Assistant Attorney General for Civil Rights at the Department of Justice.