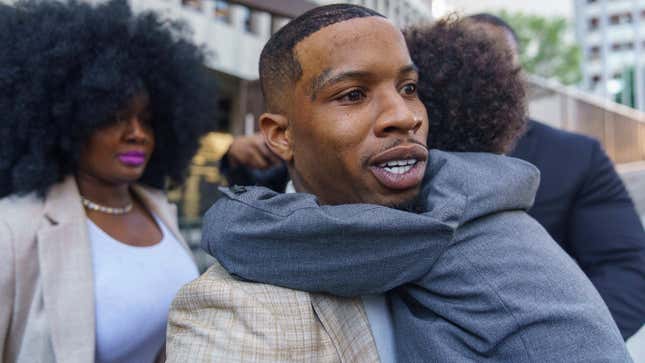 As The Root reported, Tory Lanez was sentenced Tuesday (August 8) to 10 years in prison for shooting Megan Thee Stallion. The final outcome regarding this violent incident, which happened in 2020, has some folks on social media saying that a decade is an extreme sentence for the assault. Whether if you agree with that assessment or not, one thing is certain: Lanez brought this entirely on himself.

Will The Real Black Journalists Please Stand Up
When the shooting first happened, Megan denied being shot at all and told authorities she'd stepped on glass even though she would need surgery on her feet to remove bullet fragments. She explained that she did this to protect everyone with her inside the vehicle that night, as the police are known to disproportionately have fatal encounters with Black folks.
The rapper legitimately feared that this would happen if police knew Lanez was in possession of a weapon. However, in an Instagram Live video, Meg explained Lanez's publicist was spreading false information about the shooting which led to her to name Lanez as the perpetrator. Even though he was arrested in October 2020 on a charge of carrying a concealed weapon in a vehicle, he was not arrested for shooting Megan (Lanez would later be released on $35,000 bail).
Not only did Lanez avoid any sort of accountability, he repeatedly professed his innocence by insisting that Megan was a liar. Lanez released the album DAYSTAR just two months after the violent incident in which he accused her of trying to frame him. On "Money Over Fallouts," he stated, "Megan people tryna frame me for a shootin'....Gotta see a couple questions: how the f**k you get shot in your foot, don't hit no bones or tendons?"
According to Billboard, a source close to the situation accused Lanez's team of fabricating emails from Meg's label, 300 Entertainment, to "campaign press" on his behalf. The magazine also said the source claimed the star's team made up text messages between Lanez and Megan and sent them to several outlets. The magazine also said that Lanez also leveraged his following on social media to bully Meg.
The Traumazine rapper was tormented for years following the shooting, and Lanez played a heavy hand in it. From memes ridiculing the incident, posts mocking Meg's gender and claims that she deserved to be shot, Megan was bullied when she should have been healing. To add insult to injury, celebrities from Drake to 50 Cent to Lebron James to Meek Mill boosted Lanez when they should have been showing support to Meg.
In 2021, prosecutors said they had engaged in "meaningful discussions" with Lanez about a possible plea deal but nothing materialized and the case went to trial last year (charges were brought against Lanez by the state, not Meg). Once it did, things quickly unraveled for him. From Megan taking the stand to an audio recording of Lanez seemingly confessing to the shooting, a guilty verdict felt inevitable.
Lanez's request for a new trial was denied in May as well as his request to remove the judge from the case. During his sentencing, Lanez pleaded for leniency and presented 76 character reference letters as proof of his inherently good nature. He also spoke for several minutes and called Megan "someone I still care for dearly to this day."
However, in a witness impact statement from Megan read during sentencing, she explained how Lanez tried to destroy her and that mercy is for people who show remorse. For the last three years, Lanez has made this ordeal much worse for himself by refusing to take responsibility for what he did to Meg and still won't own up to his behavior. During the sentencing, he stated that if he was guilty of assaulting Meg alcoholism and childhood trauma was to blame.
Ultimately, Lanez's prison sentence was the result of him being worried more about his ego more than consequences of his actions—and he'll be paying for both for the next decade.