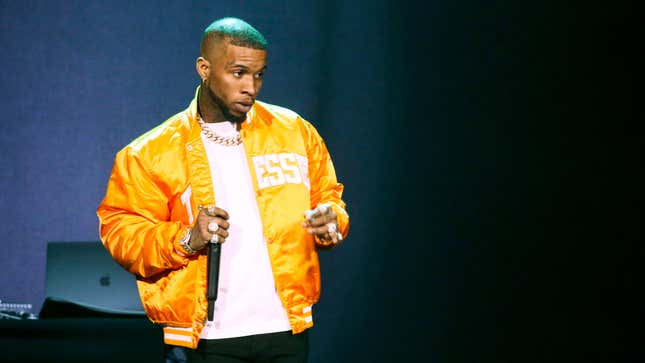 New documents have come to light revealing that Shawn Holley, the lawyer who initially represented Tory Lanez, completely disagreed with the strategy to blame Kelsey Harris for the 2020 shooting of Megan Thee Stallion.
Legal Affairs and Trials with Meghann Cuniff published messages suggesting this after Lanez waived his attorney-client privilege. The information was unsealed due to this stipulation and the shocking email was shared on Cuniff's site.
The email stated:
"As we discussed on Saturday, I am not comfortable advancing the 'Kelsie Defense', primarily because I don't find it to be a viable strategy. I don't believe my position will change unless Quan is persuasive in the preview of his testimony and you are persuasive under mock cross-examination by George and/or Lisa. Even if both of those benchmarks (Quan/you) were to be satisfied, I am still not certain that I would be willing to go forward. In light of that, you should discuss with George his willingness and ability to move forward with that defense and if he can do so by the trial date (December 6). I will help him get up to speed, if that is something you/he are interested in."

In the email, Holley was referring to attorney George Mgdesyan. Mgdesyan went on to administer the "Kelsie defense" in Lanez's trial after Holley recused herself from the case. Mgdesyan insisted that it was Harris—not Lanez—who fired five rounds at Megan from a semi-automatic firearm as she walked away from Lanez's vehicle in July 2020.
The incident occurred after the group left a party at Kylie Jenner's house. Megan was taken to the hospital after the shooting and had bullet fragments removed from both feet by surgeons. Lanez was convicted of three felony counts which consisted of assault with a semi-automatic handgun, possession of a concealed, unregistered firearm and negligent discharge of a firearm.
Lanez is scheduled to be sentenced on August 7.