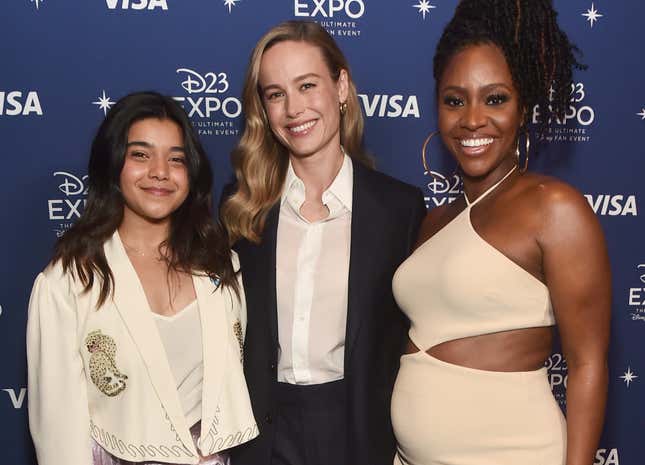 After an excruciatingly long wait, Captain Marvel fans are finally getting their first look at its sequel, The Marvels. Scheduled for release on Nov. 10, the film stars Brie Larson as Carol Danvers/Captain Marvel, Teyonah Parris as Monica Rambeau, Iman Vellani as Kamala Khan/Ms. Marvel and Samuel L. Jackson as Nick Fury.

Yvette Nicole Brown Talks Frog And Toad, A Black Lady Sketch Show & More on That's So Random
The trailer picks up following the events of the Ms. Marvel Season 1 finale. The shocking appearance of Carol in Kamala's bedroom is explained when the young hero is transported to Monica's mission in space, while Monica ends up in Carol's location. In the clip, Monica says that their powers have somehow become entangled. If you watched the awesome and charming series Ms. Marvel, then you know this is Kamala's dream come true. Captain Marvel is her favorite superhero. Her parents are less pleased with the situation.
It is so amazing to have a Marvel film led by three spectacular women, each representing different ideas of what it means to be a hero. Carol has been at this for a while, so she's weighed down by the consequences of her choices. Monica was an FBI agent before she gained powers, so she probably has a more practical, logical approach to her work. Meanwhile, Kamala's enthusiasm and drive to prove herself cannot be contained. She's just a cute ball of energy.
I also can't understate the impact of having young fans—especially little girls—see themselves in Kamala, Monica and Carol. Larson has been very vocal about her desire to see more women and people of color in the media that covers these movies. If you've ever been the only Black person in a room full of white guys at a comic book convention, then you understand how emotional it is to hear one of the major stars of the films advocate for your inclusion in the universe.
I was lucky enough to attend the 2022 D23 Expo where this trailer first debuted for guests at the Marvel Studios presentation. Larson, Parris and Vellani all appeared on-stage together and it was instantly clear what a force these three actresses are going to be as they travel the world promoting this movie together. The way they praised and supported each other was beautiful. There's been a lot of talk about how Phase Five of the MCU lacks connective tissue, but The Marvels is clearly the shared story fans have been waiting for.
The Marvels flies into theaters Nov. 10. In the meantime, you can catch up on these heroes' stories in Captain Marvel, WandaVision and Ms. Marvel, which are all streaming on Disney+.