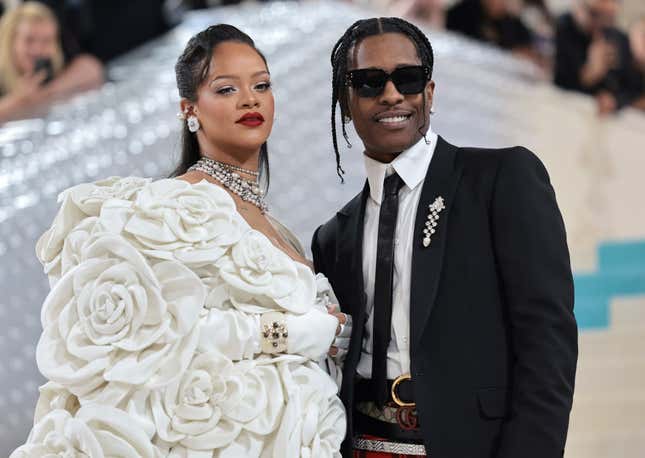 From announcing her second pregnancy while performing at the Super Bowl, to pausing her award-winning music career to launch a fashion and beauty empire, Rihanna has made an artform out of doing the unexpected. It's no surprise that she would pass that independence on to her children through their names. She and her partner, A$AP Rocky, named their first son RZA, so we were expecting something similarly unique for their second son. And they did not disappoint.

A Look Back At The 2023 Oscars Best Original Song Nominee "Lift Me Up" by Rihanna
According to a birth certificate obtained by The Blast, the couple has reportedly named their newborn Riot Rose. Honestly, I kind of love it. With parents like Rih and Rocky, you know this kid is going to march to the beat of their own drum, so they should have a name that signifies that.
It's important to note that this is still just a rumor that hasn't been confirmed by Rihanna and Rocky. Considering how private they've kept their lives, especially their children's, we shouldn't expect any official confirmations or photos. By the way, that's perfectly OK. We should all let the family live and be happy. Of course, just because this is a rumor, that hasn't stopped the internet from reacting to the name. For the most part, it's all positive, with many appreciating the distinctive, unique moniker.
One user highlighted the special nature of the couple's choice, writing, "What a unique and powerful name! Riot Rose Mayers sounds like a rockstar in the making. Congratulations to Rihanna and A$AP Rocky on their growing family!"
While noting that this name could lead to some interesting moments, one fan wrote, "Riot Rose Mayers. They are asking for trouble naming him Riot. He's going to be a little hellion."
Another user had more philosophical thoughts on the name, posting, "I actually really love Riot Rose. Rose, sonically, can work for both males and females (maybe Roze reads more male). But I'm over gendering names, focus on the sound instead of the sociological roots."
Someone cut right to the chase telling the Fenty mogul, "Damn Rihanna, Riot Rose is hard af."
Honestly, RZA and Riot sounds like a superhero team who are ready to take over the world. It feels like it could catch on and we might see a lot of Riots walking around college campuses in 20 years.