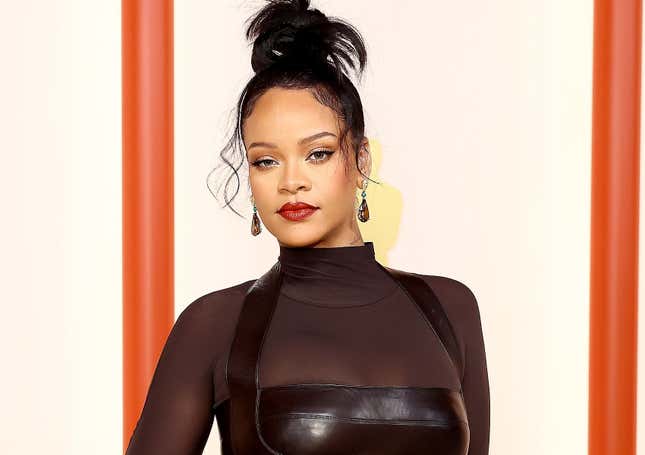 Back in 2018, lingerie giant Victoria's Secret found itself in the middle of a hotbed of controversy. The company's lack of diversity, rampant misogyny and criticism over how it encouraged unrealistic body standards, led to it losing credibility in the industry. Amid all these scandals, it indefinitely scrapped its annual fashion show, a huge, televised event that featured its most famous models walking the runway in front of a celebrity filled audience.

Is That Black Enough for You?!? Is Our TV Pick This Week
Meanwhile, just as Victoria was experiencing her downfall, music superstar Rihanna launched Savage X Fenty in 2018, and it quickly became a gigantic success. The brand has its own star-studded fashion shows that regularly stream on Prime Video. These events aren't presented like traditional fashion shows. They're more like short films featuring music from Rih and her famous friends.
With all this scandal and upheaval happening behind the scenes, it was a little surprising on Wednesday when it was announced that Victoria's Secret is bringing back its fashion show. This time around it will be The Victoria's Secret World Tour 2023, a film that will highlight the VS20, "a group of 20 innovative global creatives who will conceive four fashion curations from the vibrant cities of Bogota, Lagos, London and Tokyo." The project will be available to stream internationally and "culminate in a live fashion event this fall."
Things got a little curious when Victoria's Secret posted a teaser of the event on its Instagram and fans instantly noticed some similarities to the very specific aesthetic that Savage X Fenty has established. Rihanna's Navy inundated social media with side by side screenshots of Savage X Fenty's 2019 show and Victoria's Secret's "tunnel vision" setting.
One fan pointed out how the "Diamonds" singer had surpassed the former industry giant, writing, "Rihanna went from having the greatest VS fashion show performance ever to inspiring their every move. QUEEN SHIT!"
Another user pointed out how out in the open the duplication is, posting, "This is literally a direct copy didn't even try to hide it."
Someone else noted how this type of behavior isn't new, because Black women always set the trend, writing, "victoria's secret is literally so wack for this, rihanna ran ur fashion show into the ground and now ur biting bar for bar...just blatant stealing from black women as it has been and will be forever i guess"
Here's the thing: Nothing is new in the art or fashion world. However, there's a very big difference between "inspired by" and flat out copying something from your direct competitor. You have to realize that in this day and age, you can't just blatantly copy another brand's style. The internet never forgets. Especially Rihanna's internet.