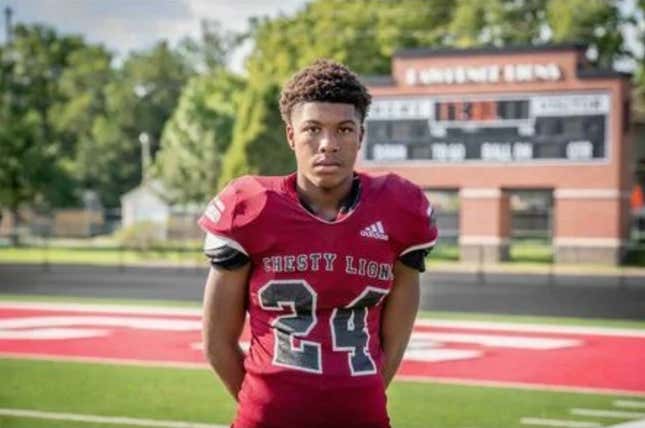 The cousin of a 14-year-old Black Kansas boy who was fatally shot by a white teen penned a letter to the US. State attorney seeking federal intervention. He argues that the murder charge should be enhanced with a hate crime given new details revealed ahead of trial.

Comedian London Hughes Talks New Book, Parents Watching Her Very Sexual Comedy, & Beyoncé
Kamarjay Shaw was shot and killed by 17-year-old Derrick Del Reed on March 18, per AP News. Authorities testified that the shooting stemmed from a teenage girl calling up Shaw and his friends on Snapchat, telling them to come outside because Reed wanted to fight him.
Shaw's mother, Barbara, told The Lawrence Times the boys had been feuding with one another for a couple years. It hasn't been disclosed what happened when the boys arrived near Reed's property, but footage captured Shaw running away before he got shot. A witness testified that he was almost half a football field away from Reed's front door when the gunshot fired.
Detective Kimberlee Nicholson then revealed that prior to the shooting, Reed sent a series of racially threatening messages which brings us to why federal charges are being requested.
Read the messages from Lawrence Journal-World:
As the Journal-World reported, Detective Kimberlee Nicholson has testified about Snapchat messages that Reed allegedly sent the morning of the shooting. The messages were exchanged with a witness who, according to prosecutors, has refused to appear in court to testify. The court has issued a material witness warrant for that person to appear

In those messages, Reed, whose handle includes the word "whiteboy," repeatedly uses the N-word and says that he is saving to buy a gun, and in a later message he says he is tired of fighting with Shaw and his friends and is ready to start shooting.

"I'm gonna let them try some funny (expletive) … Them (N-word) are dead fr(for real)" and "I see a whole lotta dead (N-word)," the Snapchat messages — read by Nicholson from a projection screen — said.
Shaw's cousin, Michael Berry, wrote to U.S. Attorney Kate Brubacher arguing Reed's actions were a "clear cut violation" of the state's federal hate crime statute. In addition to the first-degree murder charge he's facing now, a conviction would land Reed in prison for the rest of his life. Berry also argued that Reed used an accomplice to lure Shaw and his friends to his property - a notion Judge Sally Pokorny echoed in her ruling for Reed to be tried as an adult instead of a juvenile.
The judge also rejected the argument that Reed should be immune from prosecution under the state's "stand your ground" law and opted for him to be tried as an adult because of the violent nature of Shaw's death, the report says.
Reed is headed to trial in November. Until then, he's being held on a $500,000 bond.