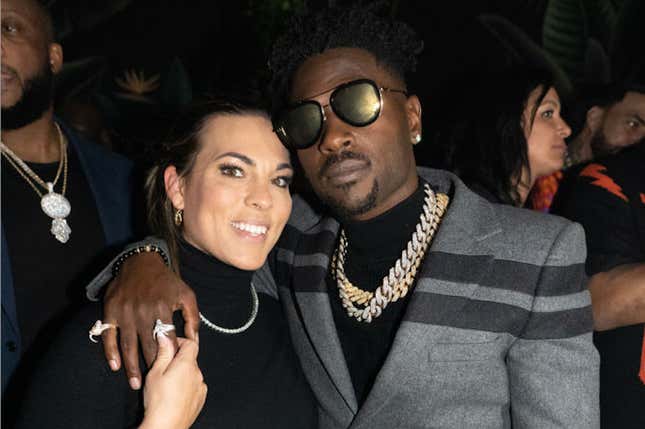 Antonio Brown has done it again. Less than a week after the former NFL All-Pro was accused of sending explicit photos to his son, he's been suspended from Snapchat after a sexually explicit photo of his ex-fiancé showed up on his Snapchat story.

The popular social media platform froze Brown's account on Tuesday for breaking its community guidelines, which don't allow users to post "sexually explicit content and bullying or harassment of any kind," according to TMZ.
The post, which can no longer be seen, shows Chelsie Kyriss, his children's mother, performing oral sex on the former NFL wide receiver in bed.
A day after he was suspended from Snapchat, Brown claimed it wasn't him who posted the picture, writing on Twitter, "My snap chat page has been Hacked Working with @snapchatsupport to get this fix asap."
Kyriss addressed the demeaning post on her Instagram Wednesday, writing, "Very well aware of what's being posted on snap. I am not in control of his actions. I have asked multiple times to have this part of our past relationship to remain private but he refuses."
She continued, "I have reported his page and all pictures unfortunately Snapchat is allowing him to repost. I am very sorry for any of your kids that follow him and used to look at him as a role model. I do not condone these actions as you are aware I have kids involved [sic] as well."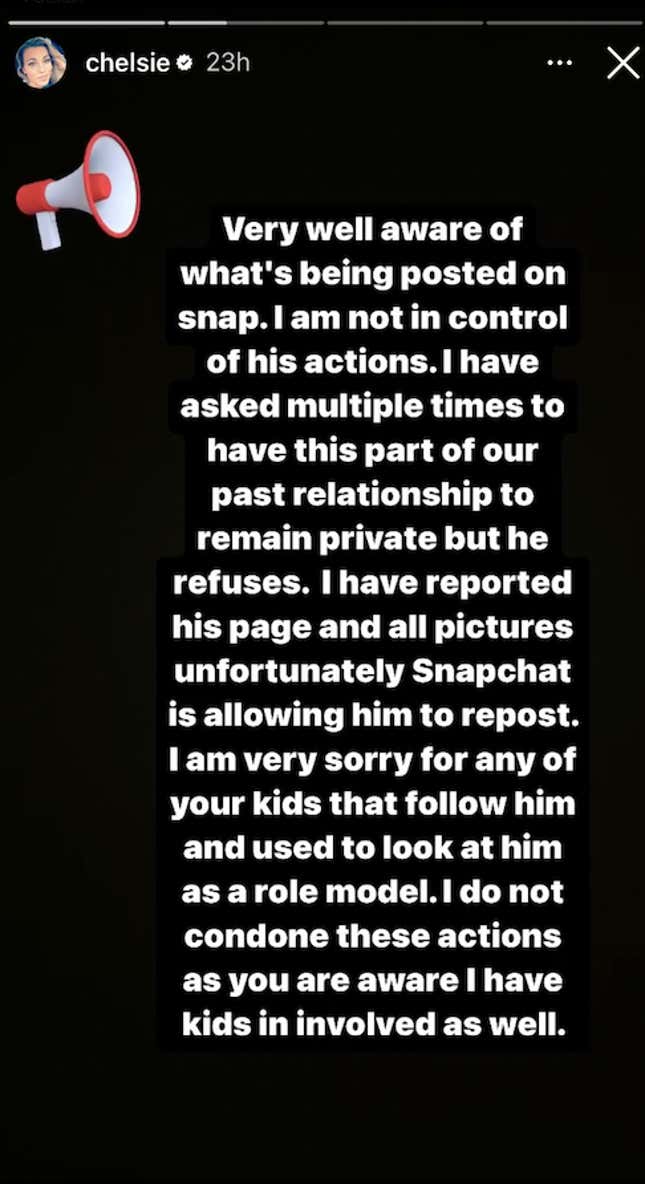 Although Brown is claiming he was hacked, he's done similar things in the past. In November, Brown posted a naked photoshopped picture of Tom Brady's ex-wife, Gisele Bündchen, on the same Snapchat he's now claiming was hacked.
Even if it does turn out that Brown's account was hacked, he has a history in of disrespecting women. In October, a viral video showed Brown sexually harassing a woman at a hotel by exposing himself. In May, Brown did Keyshia Cole dirty and broke up with her while on Instagram live with thousands of people tuned in. Last month, he was wanted on a domestic battery charge by Tampa Bay police.
Athletes claiming their social media account was "hacked" after they posted something inappropriate or questionable is the oldest excuse in the book. So unless Snapchat confirms Brown's claims, people won't believe him.