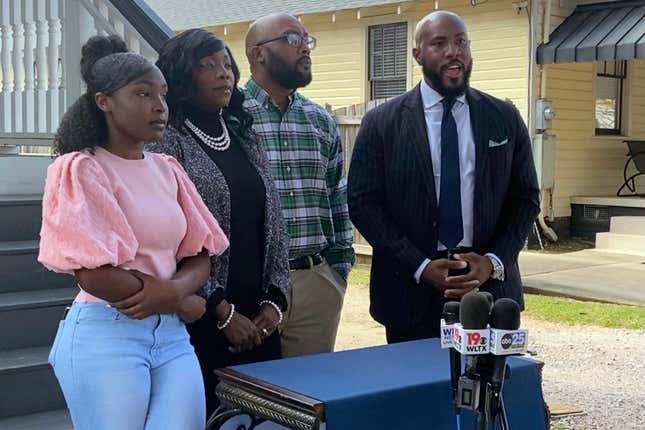 South Carolina high school freshman Marissa Barnwell and her family have filed a lawsuit against her teacher after she was accosted for not reciting the Pledge of Allegiance, per The State newspaper. The suit cites her being physically assaulted by the teacher and being emotionally traumatized.

Heather B. Gardner and Kevin Powell Always Keep It Real
I don't know what it is about teachers having a cult-determination to make sure everyone recites the old and tired Pledge of Allegiance. If I came into class a beat after the words "I pledge" were uttered, I had to wait by the front door until the recital was done before going to my seat or risk get fussed out. The report says Barnwell was walking down the hallway while the pledge was being played over the intercom. Instead of standing awkwardly in the middle of the walkway with her hand over her heart, she quietly continued to make her way to her classroom.
That is, until a teacher saw her and began yelling at her. The surveillance footage also shows the teacher charging toward the girl and shoving her up against the wall. In what world is that behavior necessary for the pledge?
Read more about the incident from The State:
Barnwell was then sent to the principal's office, which she said was humiliating because she feared she was in trouble. The principal sent her back to class, but Barnwell said he never let her know that the teacher was wrong and she was right.

"I was completely and utterly disrespected," Barnwell, 15, said at a news conference Thursday, according to The State newspaper. "No one has apologized, no one has acknowledged my hurt. ... The fact that the school is defending that kind of behavior is unimaginable."

Barnwell said she called her parents in tears and they said the teacher, principal or district never responded.

"I was just in disbelief," Barnwell said, adding that she told the teacher, "Get your hands off of me."
According to The Associated Press, the state passed a law decades ago requiring public schools to play the Pledge of Allegiance at a specific time every day but also prohibiting punishment for anyone who refuses to recite it as long as they are not disrupting their fellow classmates.
If you look at the video, Barnwell was walking silently by herself and even past what seemed like other faculty or staff who were unbothered by her heading to class until the all-American Karen showed up.
The suit names River Bluff High School's teacher and principal, Lexington School District 1 and the South Carolina Education Department as defendants.