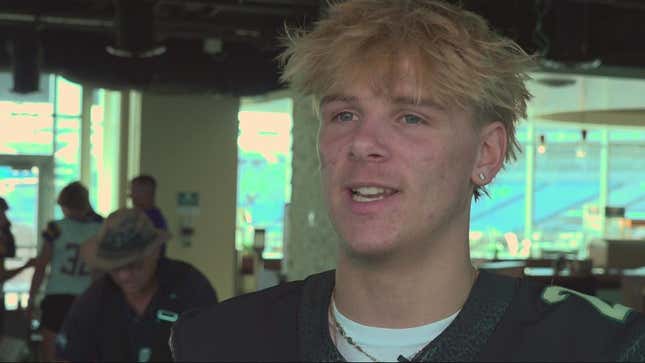 Marcus Stokes is a standout high school quarterback at Nease High School in Ponte Vedra Beach, Fla. Considered by recruiting sites to be one of the best signal callers in the nation, he was offered a full scholarship to play college football at the University of Florida. Sounds like a good thing right?

Herschel Walker Supporters Are Unfazed By His BS
But, the university rescinded its offer to Stokes in November 2022 after a video surfaced on social media of him using the N-word while rapping the lyrics to a song playing in his car.
In the two-second clip, Stokes can be heard rapping, "Welcome back nigga!"
That ain't a good look, especially for a young white kid who knows he should not be saying the n-word, even if he's rapping the lyrics to his favorite hip-hop song. When are white people going to learn? Using the n-word in any context is not accepted, whether you're regurgitating the lyrics to a song or not.

But, in an attempt to "redeem" him, Albany State University, an HBCU in Georgia, offered him a football scholarship. Yes, you read that correctly. A white kid, who was seen on video using the n-word, a racist and hateful word, was offered a scholarship to play football at a historically Black college, with other Black students. You cannot make this up.
Unsurprisingly, Black people all over the internet voiced their frustration with the decision to Quinn Gray, the head football coach at ASU. They were so loud that just days after they offered the scholarship to Stokes, they ended up rescinding it, just like the University of Florida.
In a statement, ASU Head Football Coach Quinn Gray said:
Let me start with a humble apology. An apology for not honoring the tradition and history of ASU and for letting many of you down. I didn't uphold the Ramily standard that I know you expect. Please know that my decision to speak with a student that did not meet your expectations was unacceptable. I only wanted the best for our team, athletes, and institution when I invited the student to visit ASU. As I say to our players, "there is a consequence to every action." The consequences of my actions brought pain to our University. I was trying to help a student get back in competition, and in my haste, I did not consider the impact the decision would have on all of you. Frankly, it wasn't my place to use ASU as the platform for redemption in this case. I regret that I used flawed judgment. If given the opportunity, I will do better.
Although he did not name Stokes, he also made it clear in his statement that ASU president Marion Ross Fedrick was not pleased with his actions.
Look, I don't think Stokes doesn't deserve a chance to play college football, I just don't think an HBCU is a place for it to happen. Despite that, Alabama A&M, also an HBCU, offered Stokes a scholarship, according to 247 Sports. We'll see if history repeats itself at this university as well.