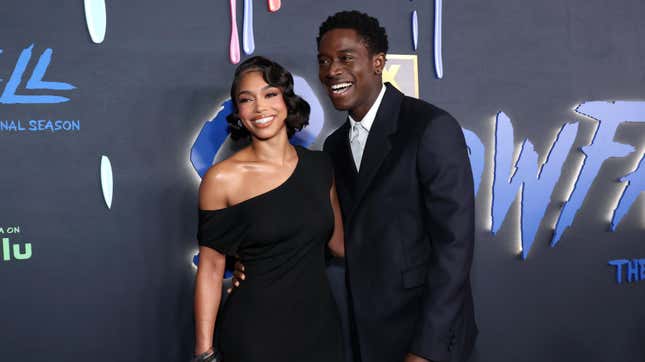 Snowfall actor Damson Idris and model and entrepreneur Lori Harvey may be Hollywood's newest it-couple, but don't expect to see every waking moment of their relationship on display moving forward.
Snowfall's Amin Joseph Sings Harry Styles, Talks Final Season & Directing on That's So Random
In a new interview for Rolling Stone, Idris recently shared his thoughts on how he navigates dating in the public eye, emphasizing the importance of keeping things "as regular and normal as possible." He also stressed the importance of connecting with your partner more than "outside forces."
He later added:
You don't always have to show the world your personal life and that what you do for a living is an extension of yourself, and that's your baby. And you need to protect that. You also need to protect your personal self too.

And of course, it's the topic of gossip, and the blogs want to talk about that over the work. I see that a lot. But they'll get over it soon enough. And in a couple days someone else will be dating and then they'll leave me alone.
As previously reported by The Root, Idris and Harvey went Instagram official with their relationship in January, though rumors that the two had been spending time together were circling months prior. The NAACP Image Award-nominated actor posted a pair of photos posted to his official Instagram story. The first pic shows the two in a very cozy embrace as he kisses Harvey on the cheek with the caption to commemorate her birthday. The second photo shows Harvey holding two giant stacks of money in what looks to be a part of the set of Idris' popular FX show.
But aside from his newfound relationship, Idris can be seen next in the sixth and final season of Snowfall, which premieres s Wednesday, Feb. 22 at 10p.m. ET on FX. He's also set to star in the upcoming Prime Video series, Swarm, from Donald Glover dropping soon.