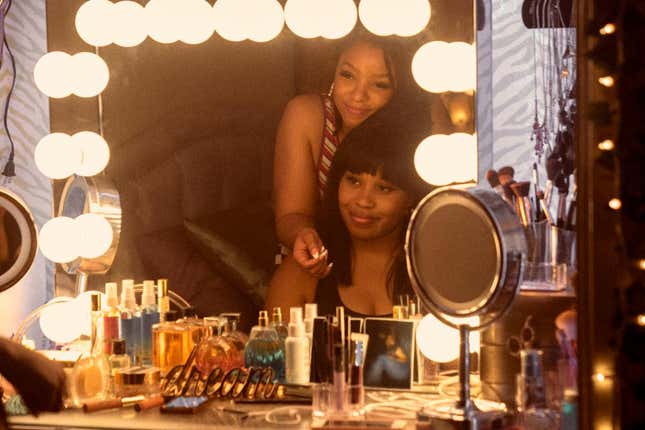 FX's Atlanta may be off our small screens, but that doesn't mean Donald Glover is done cranking out content for the culture. In fact, in newly released photos from Amazon Studios, it looks like we'll get to see his creative genius flourish once again in an upcoming series titled Swarm.
Donald Glover's Swarm Is Our Black TV Pick of the Week
Starring Chloë Bailey, Dominique Fishback (The Last Days of Ptolemy Gray, Judas and the Black Messiah), and Damson Idris (Snowfall), Swarm is set to tell the tale of "a young woman, Dre, who is obsessed with a fictional pop star," according to Vanity Fair. "The show is a dive into Dre's life, her fandom, and how it takes her to dark, unexpected places." Fishback will take on the role of Dre, with Bailey set to star as her sister, Marissa. Idris will star as her boyfriend.
Described tonally as the "sister" series to Atlanta, Glover and co-creator Janine Nabers explained that the forthcoming series is "Piano Teacher mixed with The King of Comedy," but with the focus of creating "an antihero story through the lens of a Black, modern-day woman."
"A lot of people did it out of the kindness of their hearts and they did a really great job," Glover told the outlet. "Dom, Damson, Chloe. I was really blown away at how hard they worked on the tone, 'cause it's a strange one."
Well, trust and believe us, Donald: Atlanta got us pretty used to strange television so whatever it is you have cooked up, I'm sure we'll be able to handle it. (Does Season Three's eighth episode come to mind for anyone else? Or is it just me?)
Though there's no word on an official release date yet for Swarm, you better believe when we know, you'll know too.